Get to know Sylvie,  the inspiring founder of Just Date Syrup! Sylvie is a mom, entrepreneur and trained medical doctor. After years of seeing patients with preventable chronic diseases, Sylvie decided to switch careers and follow her lifelong passion for food and healing by launching a better for you sweetener, dates! Check out the limited edition Chocolate Date Tahini we just launched together! 

Q: What are some of the tunes in your kitchen playlist?
I love listening to David Bowie and the Beatles while cooking, especially because my daughter loves them too! Our favorites to sing together while cooking are Ob-la-di, Ob-la-da by The Beatles, and Starman by David Bowie. Hearing her two-year-old voice croon brings me even more joy than cooking! 

Q: What's the last thing you ate that brought you joy?
I've been cooking out of Andrea Nguyen's Vietnamese Food Any Day, and I love finally being able to make delicious Vietnamese food, one of my constant cravings, at home! The most amazing surprise is her use of pomegranate molasses throughout the book, instead of tamarind. Luckily, I happen to have a fair amount of pomegranate molasses at home! I love her Pom Molasses Shrimp with her genius Coconut Water Turmeric Rice!

Q: What's an ingredient that you love that you think people underestimate?
I mean, I think I need to say tahini here! Once, I had to leave the remnants of a bucket of Seed+Mill tahini at my friend's house in NYC after an event (a very sad moment, and I sincerely thought about trying to put it in my suitcase). She said, "Ok, what am I supposed to do with this much tahini?" and I was like, "WHAT CAN'T YOU DO WITH TAHINI?!"

Q: Favorite Sunday night dinner?
I love when my husband makes the main course (my favorite is his cedar-plank salmon), so I can focus on my strength - the condiments! Salmon, fresh homemade pita, and lots of dipping sauces brings me all the joy. 

Q: Favorite food travel destination?
São Paulo, Brazil! I fell in love with Brazilian flavors the first time I visited there, and my husband and I have been traveling to different parts of Brazil each year. São Paulo is the heart of Brazil's economy, where so many people live and work in Brazil. Thus, the food is absolutely amazing. 

Q: What's your go-to, most failsafe recipe?
I lived with a family in Morocco when I studied abroad in college, and their grandmother gave me some expert guidance in cooking tagine. To this day, I love making tagines, and it's certainly where my love for the flavors of date and pomegranate began. A favorite amongst my family is my chicken and apricot tagine with date syrup. I now make it with a bit of an Indian twist (more turmeric, cumin, and coriander), so it's been fun to make that recipe my own. 

Q: What seasonal fruit or vegetable do you count down the days for?
Pomegranates! Forever and always. 

Q: Which restaurant are you missing the most during this pandemic?
Seeing my favorite restaurants permanently close has been heartbreaking. I can't even talk about them without tearing up. I had an incredible, tiny Vietnamese restaurant where I live that was probably Bourdain-worthy… just a mother-daughter joint that recently permanently closed. I wish I could find them to tell them what their food meant to me! 

Q: What kitchen smell is most nostalgic for you?
I grew up in an active cooking Indian household with several amazing cooks (my mom, aunt, and grandmother), so there were A LOT of smells. There were permanent spice aromas of turmeric, cumin, coriander, and chili in the air, furniture, clothing, you name it.
Our NEW squeeze-y tahini has landed at Sprouts Farmers Market! Try them both with a BOGO FREE offer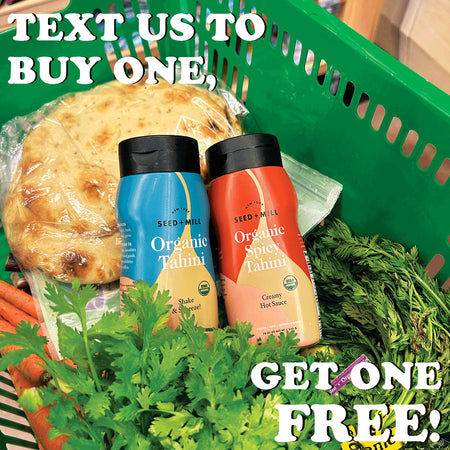 Get Offer