This comforting dessert recipe comes from Adeena Sussman's colorful new cookbook "Shabbat." It's warm and nostalgic, the perfect sweet end to a meal, especially this time of year when the weather is cooling off and we're leaning towards all things cozy.
"Whenever I have leftover challah, I make an indulgent bread pudding that benefits from sweet hawaij, a spice blend that Yemenite Jews stir into boiling water and drink as a post-meal digestif. Unlike its savory counterpart, which is used in soups and stews, this one is laced with ginger and cardamom and packs some surprisingly sweet heat. I started out buying the mixture at spice stores in the shuk, but lately I've taken to making my own, either grinding whole spices or using store-bought for a lickety-split execution. Adding hawaij to this bread pudding, along with halva and a rich, three-ingredient tahini drizzle, is my favorite kind of dessert: one that fuses childhood flavors with ones that speak to my life right now."

INGREDIENTS 
For the Bread Pudding
3 tbsp unsalted butter, melted and cooled slightly, plus more for greasing the pan
1 day-old loaf challah (about 1 pound), cut into 2-inch cubes (about 9 cups)
8 oz Seed + Mill Halva (flavor of your choice), crumbled (about 1 cup)
1 c fresh or frozen raspberries 
4 c whole milk
1 c heavy cream or half-and-half
6 large eggs
2/3 c granulated sugar
1/3 c light brown sugar
1 tbsp pure vanilla extract 
2 tsp Sweet Hawaij
1 tsp ground cinnamon
1/2 tsp fine sea salt

For the Tahini Drizzle 
1/2 c half-and-half
1/4 c Seed + Mill Organic Tahini 
2 tbsp sugar
1/2 tsp fine sea salt

For the Sweet Hawaij
1 1/2 tbsp ground ginger
1 1/2 tbsp ground cardamom 
1 1/2 tsp ground cinnamon
1/2 tsp ground or freshly grated nutmeg
1/4 tsp ground cloves
1/4 tsp ground mace (optional)

STEPS
For the Bread Pudding
1. Grease a 9 x 13-inch baking dish with butter, then arrange the bread evenly in the dish. Sprinkle 2/3 c of the halva and the berries evenly all over the dish, moving some bread to let the halva nestle between pieces. 
2. In a bowl, whisk the milk, heavy cream, eggs, granulated sugar, brown sugar, vanilla, hawaij, cinnamon, and salt, then drizzle in the melted butter. Pour the mixture over the dish and moving the bread in places to let the liquid soak in. Let the custard sit at room temperature for at least 30 minutes, or cover and refrigerate overnight to absorb the liquid. 
3. Preheat the oven to 350 degrees. Crumble the remaining 1/3 c halva over the top and bake until the top is golden but the bottom half is still very moist, 40 to 45 minutes (or up to 1 hour if you're baking directly from the refrigerator). Remove from the oven, let cool slightly, and drizzle with Tahini Drizzle. 
For the Tahini Drizzle
1. In a small bowl, mix the half-and-half, tahini, sugar, and salt until combined. Drizzle can be refrigerated in an airtight container for a week. 6. Pour half the batter into the prepared pan(s), sprinkle with the crumble mixture, then top with the remaining batter. (If you are making a square or loaf cake you might want to reserve a little of the crumble mixture to sprinkle on top). Bake for 35-40 minutes or until a skewer comes out clean.
For the Sweet Hawaij
1. Pass the spices through a fine-mesh strainer into a bowl. Store in an airtight container for up to 6 months.
Our NEW squeeze-y tahini has landed at Sprouts Farmers Market! Try them both with a BOGO FREE offer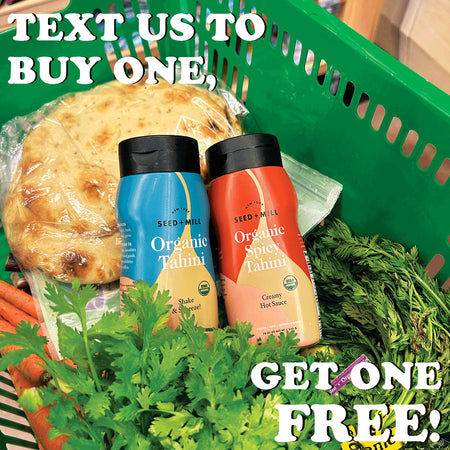 Get Offer