We make this sauce every week during the summer and always have a stash of it in the fridge. It's perfect for.....well..... everything! We use it as a salad dressing, drizzling sauce for summer grilling, dipping sauce for crudite or stirred through a grain bowl for a creamy flavor boost. You can adjust the thickness by adding more tahini to make it thicker or extra water or lemon juice to thin it down. Watch us make it here.
INGREDIENTS
1 c Seed + Mill Roasted Garlic Tahini, or our Organic Tahini
¼ c lime juice 
¼ c water
2 tbsp apple cider vinegar, or any white vinegar
1 tbs maple syrup, or honey 
1 large bunch (about 2 cups) fresh green herbs, we used a mix of basil, parsley, cilantro and mint (including parsley and cilantro stems)
1 clove garlic, skip if using our Roasted Garlic Tahini
1 shallot, roughly chopped
Salt & pepper, to taste
STEPS

Blend the herbs and water in a food processor for 1-2 mins. Add remaining ingredients and blend again until smooth. If the sauce is too thick, add more water. If it's too thin, add more tahini and herbs. 
Note: this sauce can be made up to 2-3 days in advance or will keep in the fridge for leftovers for the same period!
Our NEW squeeze-y tahini has landed at Sprouts Farmers Market! Try them both with a BOGO FREE offer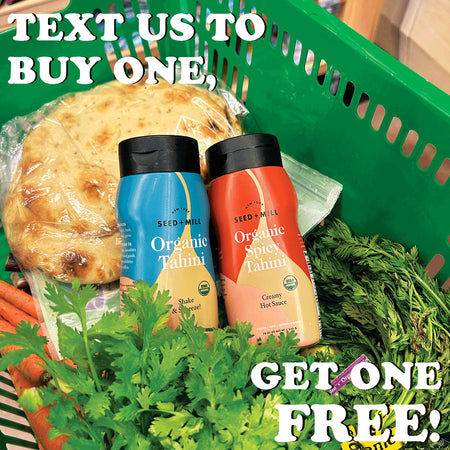 Get Offer