This dish makes a really unique, delicious Thanksgiving side. The spiced sweet potatoes and toasted walnuts are brought together with the dreamiest, pillowy, fresh hummus, made with chickpeas/garbanzo beans from our friends at Beanstory. There are lots of shortcuts to making hummus, but if you can spare the time, making it all from scratch is definitely worth the effort.  As Katherine, founder of Beanstory reminds us, 'Beans are.....kind of this ideal metaphor for our desire to slow down and live a more conscious life." We hope this Thanksgiving, in particular, is an opportunity for you to slow down and use a plate of homemade food to show your friends and family your love. 
This is wonderful served with fresh bread, crackers or as a unique side for your Turkey!
INGREDIENTS
Hummus recipe here
For the Sweet Potatoes & Walnuts
1 large sweet potato
2-3 tbsp olive oil
1 tsp cinnamon
1 tsp brown sugar 
1 tsp sesame seeds
1 c walnuts
1/2 tsp chili flakes, optional
Salt & pepper, to taste 

STEPS
1. Pre-heat oven to 400F. 

2. Place cubed sweet potatoes in a medium mixing bowl and toss with olive oil, cinnamon, brown sugar and a pinch of salt.  Place on a parchment lined baking sheet and bake for 30-40 minutes or until browned and the potatoes have crispy edges. 

3. While the potatoes are roasting, place the walnuts and a drizzle olive oil into a medium-sized skillet on high heat. Watch the frypan carefully and give it a regular shake, for approximately 3-4 minutes until the nuts start to toast. Turn the heat off, add the sesame seeds, pinch of salt, pepper and chili flakes if using. Toss again in the fry pan and then place on parchment lined plate or board to cool. Once cooled, roughly chop the nuts. 

4. To assemble: swoosh the hummus on the base of a serving platter. Top with the sweet potatoes, then add the walnuts. Finish with a drizzle of olive oil. 

This dish is best served warm or at room temperature. So, if using store bought hummus, you may want to leave it out of the fridge for an hour before serving. 
Our NEW squeeze-y tahini has landed at Sprouts Farmers Market! Try them both with a BOGO FREE offer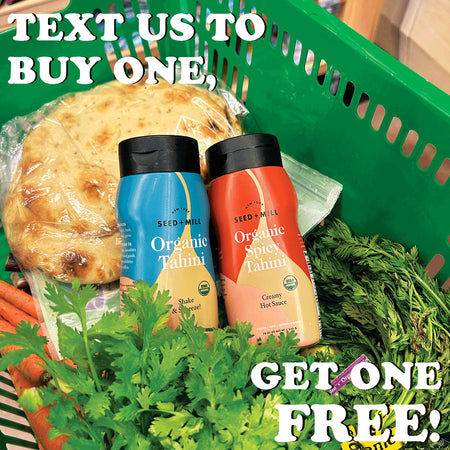 Get Offer