This heavenly toast recipe comes from Michael Crupain's new cookbook, "The Power Five."
"When bread becomes toast, it undergoes a Maillard chemical reaction, which is a food-geek way to say it becomes even tastier. It also adds a crustiness, for an ever-better bed for toppings like the mushroom-tahini mixture in this recipe. This is a crowd-pleasing appetizer, but sometimes I have it for breakfast or lunch. If you're feeling fancy, garnish with a sprig of thyme at the end for a picture-perfect finish."  
INGREDIENTS 
1lb assorted mushrooms (such as oyster, maitake, shiitake)
1/2 tsp urfa chile flakes (dried Turkish chile peppers)
3 tbsp olive oil, plus more for finishing
Salt 
3 cloves garlic, minced
1 shallot, finely chopped 
1 tsp fresh thyme leaves, chopped 
1 c dry white wine 
3 tbsp Seed + Mill Organic Tahini 
4 slices whole wheat or sourdough bread, toasted and rubbed with a raw garlic clove

STEPS
1. Coarsely chop the mushrooms, and add to a bowl with the chile flakes and oil. Toss to coat the mushrooms.
2. Cook the mushrooms in a large, heavy-bottomed skillet over medium-high heat for 8 to 10 minutes or until browned. Season with salt, add the garlic, shallot, and thyme, and sauté for 4 minutes or until the shallot is soft. Stir in the wine, and cook until just evaporated. Turn off the heat, and stir in the tahini. If the mixture is too dry, add 1 to 2 tablespoons water for desired consistency. Spoon the mushrooms over the toast, sprinkle with salt to taste, and serve.
From The Power Five: Essential Foods for Optimum Health © 2023 by Michael Crupain, MD, MPH.  Excerpted by permission of National Geographic Partners LLC, an imprint of Disney Publishing Worldwide.  Photography by Scott Suchman.  All rights reserved.
Our NEW squeeze-y tahini has landed at Sprouts Farmers Market! Try them both with a BOGO FREE offer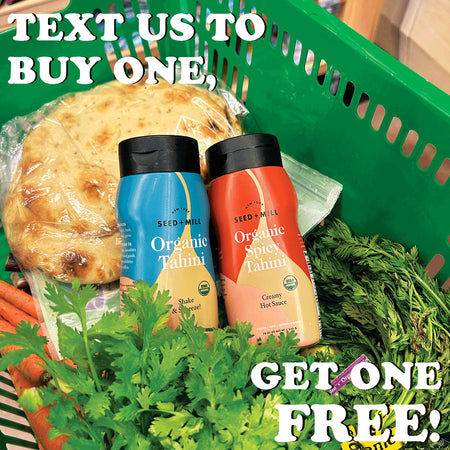 Get Offer