We couldn't wait to get our hands on Alison Roman's new cookbook, Sweet Enough, and we were over the moon to find it features a halva recipe!
"Halva can refer to myriad confections around the world, some semolina-based, others made from sesame, a pulverized nut, or some combination of all three. Some are cookie-like, some are small and candy-like. Here, I am referring to the block of sweetened sesame paste that is sold by the hunk in many Middle Eastern and Jewish groceries.
The halva here is subtle, but adds a welcomed nutty flavor and tender texture on top of the flaky crust, and beneath the jammy fruit, lending it a not-not peanut butter and jelly quality. It's also lending its talents as a sweetener (meaning less granulated sugar on your fruit), and also providing something for those juices to sink into as the fruit bakes, which leaves you with a never-soggy bottom."
INGREDIENTS
All-purpose flour, for dusting
1 disc The Only Pie Crust, recipe below
2 lbs/910g plums or apricots, halved through the stem end
½ c/70g demerara or granulated sugar, plus more for sprinkling
3½ oz/100g Seed + Mill Halva, crumbled (about ¾ c)
1 large egg
1 tbsp fresh thyme leaves, optional 
STEPS
Preheat the oven to 375°F degrees. Line a baking sheet with parchment paper. 
On a lightly floured work surface, roll the dough out to a round-ish 13-14 inch round and transfer to the lined baking sheet. 
In a medium bowl, toss the plums with the sugar until well coated. Scatter the halva onto the dough round, making sure to break up any aggressively large pieces, leaving a 2-inch border of dough all around. Top with the plums; I like to do a mix of cut-side up and cut-side down for a good distribution of juiciness and, of course, for looks.
Fold the crust up over the plums, overlapping slightly to create a good seal for all the juiciness.
Whisk your egg with a teaspoon or so of water and use that to brush the crust with the egg wash. Sprinkle the whole galette (the crust and the plums) with more sugar for juicier fruit and an extra crunchy/craggly/golden crust. 
Bake, rotating the pan front to back once, until the crust is deeply golden brown and baked through, the plums are juicy, tender, and bubbling with excitement, 50-55 minutes. Remove from the oven and sprinkle with thyme, if using. Let cool completely before slicing.
Makes one 10-inch galette
Eat with
Vanilla ice cream is always a "yes" from me, but plums specifically really do take a shine to other flavors. This is an instance where I would push serving an "alternative" ice cream, something made with caramel, honey, sesame, or nuts.
Do ahead
The galette is best eaten the day of, but will definitely last a day or two, stored at room temperature, loosely covered with foil or plastic wrap. You can always rewarm in a 375°F oven if you like, but I almost prefer galettes at room temperature. 
The Only Pie Crust
Makes 2 discs
INGREDIENTS
2½ c/362 g all-purpose flour, plus more for rolling
2 tsp/8 g sugar
1 tsp/4 g kosher salt
2½ sticks/10 oz/285 g unsalted butter, cut into 1-inch pieces, chilled
1 tbsp/15 g apple cider vinegar or distilled white vinegar
¼ c/60g ice cold water, plus more only if you absolutely must
STEPS
In a large bowl, whisk together the flour, sugar, and salt. Add the butter and toss to coat it in the flour mixture. Using your hands, smash the butter between your palms and fingertips, mixing it into the flour, creating long, thin, flaky, floury, buttery bits. Once most of the butter is incorporated and there are no large chunks remaining, dump the flour mixture onto a work surface. 
In a measuring cup, combine the vinegar and ice water and drizzle it over the flour/butter mixture. Run your fingers through the mixture like you're running your fingers through your hair, just to evenly distribute the water through the flour until the dough starts coming together.
Knead the dough a few more times, just to gather up any dry bits from the bottom and place them on the top to be incorporated. You will be tempted to add a tablespoon or two more water now--resist if you can, add only if you must.
Once you've got a shaggy mass of dough (it will not be smooth and it certainly will not be shiny), knead it once or twice more and divide it in half. Pat each piece into a flat disc about 1 inch thick. Wrap each disc individually in plastic wrap and refrigerate at least 2 hours. 
"Sweet Enough" Copyright © 2023 by Alison Roman. Photographs copyright © 2023 by Chris Bernabeo. Published by Clarkson Potter, an imprint of Random House." 
Our NEW squeeze-y tahini has landed at Sprouts Farmers Market! Try them both with a BOGO FREE offer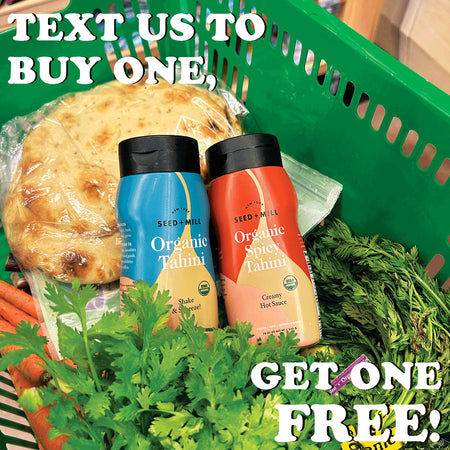 Get Offer