This colorful platter of roasted vegetables is the perfect side dish. We chose to use a whole head of cauliflower as the centerpiece, but this recipe works with any other seasonal vegetable - the more color, the better!
INGREDIENTS

Whole head of cauliflower
Shishito peppers
Brussels sprouts
Rainbow cauliflower florets
Red onions
5 tbs olive oil
Salt and pepper
For the sauce: 
1/2 c Seed + Mill Organic Tahini (any of our flavors would be delicious here!)
1/2 c iced water
Juice of half a lemon
1 tsp olive oil
Salt and pepper
STEPS
1. Preheat oven to 400 °F.
2. Place the whole head of cauliflower in a pot of boiling water for 7 minutes. Remove and pat dry.
3. Place the cauliflower head and all other selected vegetables on a parchment-lined sheet pan, drizzle with 5 tbs olive oil, season with salt and pepper. 
4. Roast until browned, about 45 minutes. 
5. While the vegetables are roasting, make the lemony tahini sauce. In a bowl, whisk together until smooth: tahini, iced water, juice of half a lemon, olive oil, salt and pepper to taste (we used black lava salt flakes).
6. To assemble: place the vegetables on a platter with the whole cauliflower as the centerpiece and drizzle with the tahini sauce. Garnish with wedges of pomegranate for extra color! 
The sauce can be made at least 2 days ahead and kept refrigerated.
Our NEW squeeze-y tahini has landed at Sprouts Farmers Market! Try them both with a BOGO FREE offer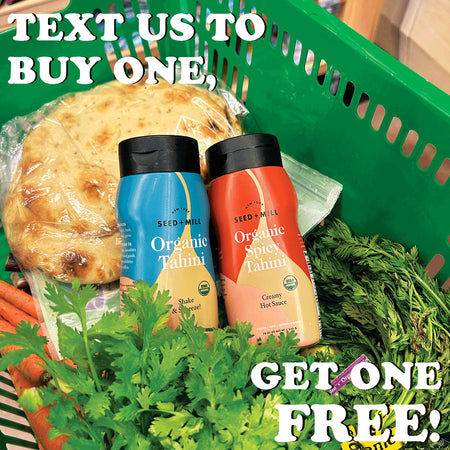 Get Offer