Our friend Samah Dada just released her gorgeous new cookbook, DADA EATS LOVE TO COOK IT, and it's full of recipes that bring tahini to the party. We're so excited to share her Honey Tahini Scones recipe, from the book, with you!

INGREDIENTS
2 flax eggs 
1/3 c Seed + Mill Organic Tahini 
5 tbs coconut oil (softened until scoopable, plus extra for greasing the baking sheet) 
1/4 c honey plus (optional) extra for drizzling 
1/4 tsp sea salt, 2 tbs coconut sugar, 2 tsp baking powder 
3 tbs non-dairy milk (hemp, almond or oat) 
1 tsp vanilla, 1 tbs fresh lemon juice
2 c oat flour, plus extra for dusting

STEPS

1. Prepare the flax eggs and set aside. 
2. In a medium bowl, mix together the honey, coconut oil and tahini.  Add the lemon juice, vanilla and 1 tbs coconut sugar and stir to combine. 
3. At this point, your flax eggs should have thickened up. Add it to the tahini mixture and stir to combine. Add the oat flour and salt to the tahini mixture. Now, add the baking powder on top, sprinkling it over the entire surface area. Fold everything together until well combined. 
4. Once you've mixed everything together so all the ingredients are fully incorporated, add the non-dairy milk to help bring it all together. Form the dough into a ball and transfer it to a floured surface. Flatten it into a disk that's about 1/5 inches thick. Use a knife to cut the disk into 8 triangular wedges. 

To Bake:
1. Lightly grease a baking sheet with coconut oil or line with parchment paper. 
2. Transfer the wedges to the baking sheet, separating them and sprinkling with remaining coconut sugar. 
3. Place the baking sheet in the fridge and allow to rest for at least 15 minutes or up to 30 minutes. 
4. Pre-heat oven to 400F. 
5. Once the oven is hot and the dough has rested, place in the oven and bake for 15 minutes. The scones should be golden and slightly crisp around the top and sides. 
6. Allow the scones to cool. Enjoy on their own or brush with a little bit of extra honey and enjoy with tea, coffee, chai - whatever you like! 


Makes 8. 
Recipe from DADA EATS LOVE TO COOK IT. Copyright © 2021 by Samah Dada.
Photography copyright © 2021 by Julia Gartland
Our NEW squeeze-y tahini has landed at Sprouts Farmers Market! Try them both with a BOGO FREE offer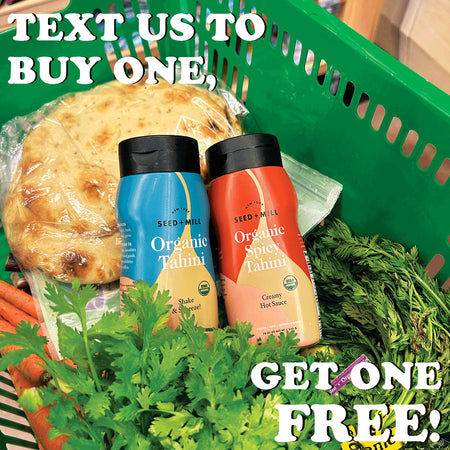 Get Offer