Photography © 2021 by Matt Taylor-Gross

Our friend, food writer and Nice Jewish Boy, Jake Cohen just released his gorgeous new cookbook, Jew-ish: A Cookbook: Reinvented Recipes from a Modern Mensch, and it's jam-packed with tahini-forward recipes. We're so excited to share his Za'atar Roasted Eggplant with Tahini recipe, from the book, with you, which we tweaked slightly!

Jake says, "I cook a whole lot of eggplant in [the] book because it's one of the most versatile veggies, and can take on a myriad of textures depending on how you cook it. This roasted number is a meatier vegetable side that can stand up to any protein, or even stand in for one as the topper for your next grain bowl. Halved eggplant is roasted in a lemony za'atar oil to take on an herbaceous tang before getting drizzled with garlicky tahini for richness and date syrup for a sweet finish. It tastes like you put in a lot more effort than you actually did, which is the ultimate sign of a great dish!"

INGREDIENTS 
2 lbs Italian eggplant (4 small), halved lengthwise
1⁄3 c extra-virgin olive oil
2 tbs za'atar
1 tsp finely grated lemon zest
Kosher salt and freshly ground black pepper
1⁄3 c Seed + Mill Organic Tahini (any of our flavors would be delicious here!)
2 tbs freshly squeezed lemon juice
1 garlic clove, finely grated
1⁄4 c warm water
2 tbs date syrup (silan)
2 tbs fresh mint leaves, for garnish
Pomegranate seeds, for garnish
Flaky sea salt, for garnish

STEPS
1. Preheat the oven to 425°F. Line a half sheet pan with parchment paper. 
2. Score the flesh of each eggplant half with a paring knife, making a series of 1⁄2-inch-long slices (about 1⁄4 inch deep) on the diagonal and then an- other round of slices perpendicular to the first, creating a crosshatch pattern. Place the eggplant cut-side up on the prepared sheet pan.
3. In a small bowl, whisk together the olive oil, za'atar, lemon zest, and a heavy pinch each of kosher salt and pepper. Pour the mixture over the egg- plant, rubbing it into the crosshatches. 
4. Roast the eggplant for 35 to 40 minutes, until tender when pierced with a paring knife. 
5. Meanwhile, in a small bowl, whisk together the tahini, lemon juice, garlic, and warm water until smooth. Season with kosher salt and pepper. 
6. Transfer the eggplant to a platter and drizzle with the tahini sauce and date syrup. Garnish with the mint leaves, pomegranate seeds, and a pinch of flaky sea salt, then serve. 

Serves 4-6.
Our NEW squeeze-y tahini has landed at Sprouts Farmers Market! Try them both with a BOGO FREE offer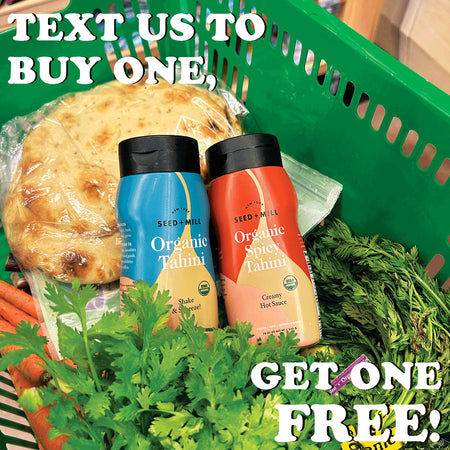 Get Offer