We love the flavor combination of the earthy, nutty za'atar tahini with the caramelized sweetness of these roasted sweet potatoes. This is such a colorful winning dish whether it's for a festive gathering or a simple weeknight dinner! The creamy tahini sauce will also keep for a few days in the fridge and can be used to drizzle over salads, other roasted vegetables all week.

INGREDIENTS
4 medium sweet potatoes
3 tbs olive oil
½  c Seed + Mill Organic Za'atar Tahini
Juice of 1 lemon
¼ c iced water
1 tsp salt & pepper to taste
2-3 tbs toasted sesame seeds to garnish

STEPS
1. Pre-heat oven to 400F.
2. Line sheet pan with parchment paper.
3. Slice sweet potatoes in half, through the long side.
4. Drizzle with olive oil and salt (making sure the potatoes are evenly coated)l and roast for 30-40 mins (until crispy).
5. While sweet potatoes are roasting, make the tahini sauce by whisking all of the remaining ingredients together in a bowl until smooth. If too thin, add an extra 1 tbs tahini or if too thick, add 1 tbs extra water to reach desired consistency. This is all personal preference!
6. Transfer sweet potatoes to a serving dish and drizzle the tahini sauce and sesame seeds over the plate. Place extra sauce in a small serving bowl on the table for second helpings or those who like it extra creamy!
Our NEW squeeze-y tahini has landed at Sprouts Farmers Market! Try them both with a BOGO FREE offer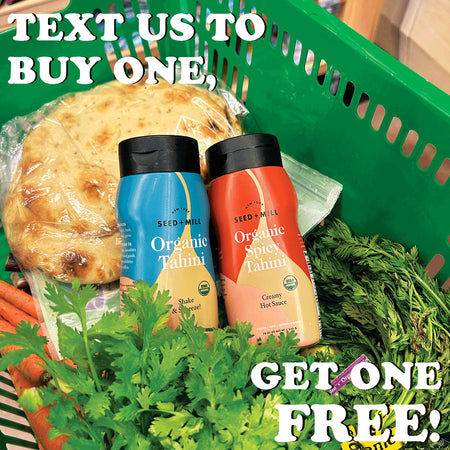 Get Offer