The perfect summer BBQ recipe, great as a side dish or the main event for vegetable lovers! We've adapted this recipe from an original by Bon Appétit's editor, Andy Baraghani, who says that the addition of the tahini sauce takes an already cravable vegetable into extra delicious territory. We couldn't agree more! Photo by @spinachdaddy.
 
INGREDIENTS
1 whole green cabbage
2-3 tbs olive oil
½ c Organic Za'atar Tahini
½ c iced water
Zest and juice of 1 lemon 
1 tsp salt, plus extra salt & pepper to taste
2 tbs toasted sesame seeds
½ c dill or other finely chopped green herb (as a garnish)

STEPS
1. Pre-heat outdoor grill or grill plate/skillet over medium-high.
2. Slice the cabbage into thirds through the core and drizzle with olive oil (careful to keep leaves and core intact). Season cabbage wedges with salt.
3. Grill cabbage until charred on cut sides and a knife can slide through the center (about 6-8 mins). Allow the cabbage to cool for 5 mins (this allows the cabbage to soften further). Slice the wedges in half.
4. While cabbage is grilling, make the tahini sauce by whisking together the tahini, iced water, lemon juice, zest, salt and pepper in a bowl. It will slowly thicken up into a sauce. If too thick, add 1-2 tbs more water, and if too thin, add 1-2 tbs more tahini until the sauce has a smooth velvety consistency. Place the squeezed lemon halves on a hot grill for 2-3 mins and add to the plate as a garnish (you might also give them one last squeeze over the cabbage before serving). 
5. Smear about half of the sauce over a platter or plate, add cabbage wedges to the top and drizzle with extra tahini sauce.
Our NEW squeeze-y tahini has landed at Sprouts Farmers Market! Try them both with a BOGO FREE offer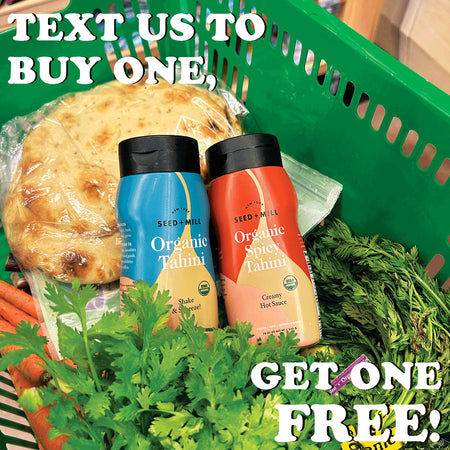 Get Offer