Roasted potatoes pair perfectly with robust herbs. These za'atar roasted sweet potato fries get dusted with polenta, making them extra crispy. We recommend dipping in a vegan tahini ranch dipping sauce - it's life-changing!

INGREDIENTS
For the sweet potatoes:
3 large sweet potatoes (sliced into wedges)
3 tbsp za'atar
2 tbsp polenta
4 tbsp olive oil
Rosemary (finely chopped) and a few stalks for garnish
Salt & pepper
 
For the tahini ranch dip:
1/4 c Seed + Mill Organic Tahini (any of our flavors would be delicious here!)
1/4 c lemon juice
1/4 c olive oil
2 tbs white miso
2 tsp maple syrup
1 garlic (preferably roasted in advance)
Salt & pepper
Add 2/3 tbs water if necessary to thin out the sauce


STEPS
1.Pre-heat oven to 400 °F.
2. In a bowl, combine the za'atar, olive oil, salt & pepper, and sweet potatoes and mix by hand to coat evenly. Sprinkle the polenta over the sweet potatoes. Lay wedges on parchment-lined baking sheet (evenly spaced) and roast for 45 mins or until golden and crispy.
3. For the dressing: blend all of the dressing ingredients (except the water) in a food processor until smooth. Add extra water to thin out the sauce to your preference. The more water, the thinner the sauce will be.
4. Add the rosemary over the fries for decoration.

Lasts for up to 2 days if kept in an airtight container.
Our NEW squeeze-y tahini has landed at Sprouts Farmers Market! Try them both with a BOGO FREE offer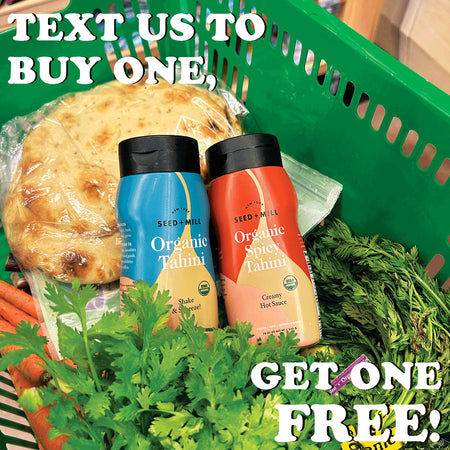 Get Offer