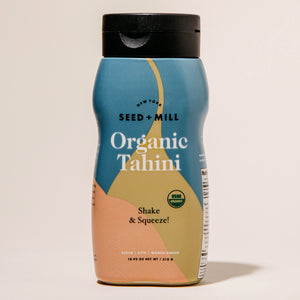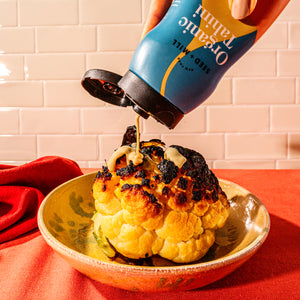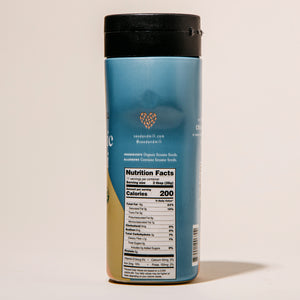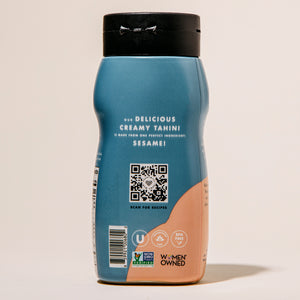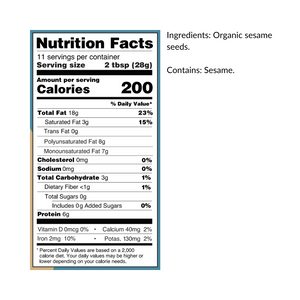 All Products
Organic Tahini Squeeze Bottle
So Delicious
And so convenient in the "Shake/Squeeze" bottle. Only trouble is I will devour it so fast the bottle will quickly be empty!! Hazle
P.S. Hello Evy!
Made from double-milled sesame seeds, our tahini is extra silky smooth & perfect for squeezing into everything from hummus to smoothies, dips to cookies– it's even delicious drizzled over ice cream.

Like a squeeze of lemon or a drizzle of good olive oil, we love finishing a dish with tahini for added creaminess & richness! We've taken the tahini you know and love and double milled it, rendering it extra silky smooth and drizzle-able.

Our tahini is an all natural product that's high in calcium, iron and protein. It fits perfectly in a vegan, gluten free or paleo lifestyle. But above all, it's delicious! 

Check out our recipe page for creative ways to use tahini in your kitchen.


SHIPPING: Your order will ship within 2-3 business days. We cannot guarantee a specific delivery date. Please reach out to info@seedandmill.com if you have any questions.

ORGANIC TAHINI: Hulled and roasted sesame seeds. Contains sesame.

The tahini is certified kosher by OU. Please email us if you would like to see the certificate.

Tahini is as versatile as it is delicious. Use it as an ingredient in both savory and sweet dishes, drizzle it over toast or roasted vegetables, or swirl it into oatmeal or a smoothie. The possibilities are endless! 

Unopened, tahini lasts for up to 18 months when stored in a cool, dry place. Once opened, your tahini will last for 12 months. We recommend storing your tahini in the fridge to slow the natural separation of oil, which may start to occur after a few months.

If you notice that your tahini has a layer of oil at the top, that doesn't mean it's gone bad! All you need to do is give your bottle a good shake before using it.

Check out our recipe page for creative ways to use tahini in your kitchen.