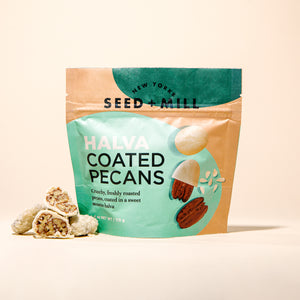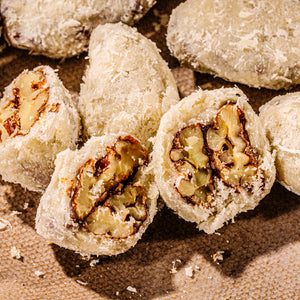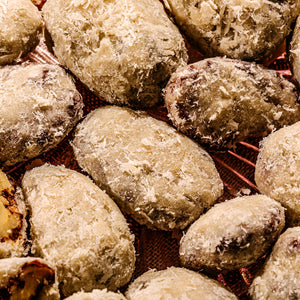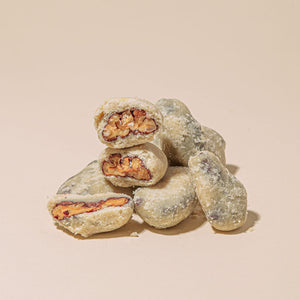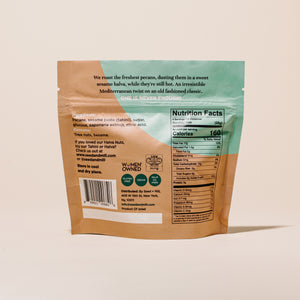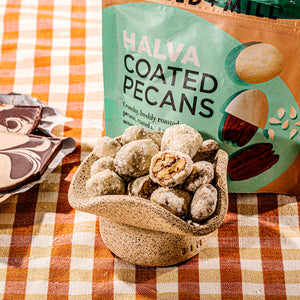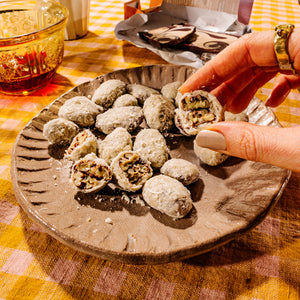 Gifts
Halva Coated Pecans
A Mistake in a Previous Review
I am the author of the Halva Coated Pecan review that was clearly "glowing"
but whose star was only one. Obviously a mistake. The review was "spot on" and the review should have carried a 5 star label! Clearly a superior product in every way! I think I will open a bag when I send this apology! RMC
Always Great
I placed an order so that I could try the new spicy tahini squeeze bottle (it is delicious and quite spicy) and reorder the tahini pecans. They are a little on the sweet side but very good and make a great gift. I like a couple of them chopped up on oatmeal with dates, tahini, and flakey salt. So good!
Pecans and ice cream
This is the best thing I've ever consumed. I got their ice cream today too omg made my whole trip to New York. I went back three times just because I knew I NEEDED more of the pecans. They are SOOOOO GOOD!!!!
Great pecans
The halva coated pecans are yummy!!!
Simply amazing
Previous reviewer is correct: once you try these, you will find yourself like me--ordering more bags of this addictive snack. OMG
These super crunchy, freshly roasted pecans, coated in sweet sesame halva, make for a perfect sweet snack or gift for your favorite halva nut. This product is certified Kosher by the Rabbinate of Ashdod.

SHIPPING: Your order will ship within 2-3 business days. We cannot guarantee a specific delivery date. Please reach out to info@seedandmill.com if you have any questions.

HALVA COATED PECANS: pecans, halva (sesame paste, sugar, glucose, saponaria extract, citric acid). Contains pecan nuts, sesame.


Halva coated pecans last for 4-6 months when stored in a cool, dry place, but we hope you eat them all before then! We don't recommend freezing the halva nuts, as it will damage the delicate texture. Do not leave in a warm or sunny place as the halva will start to soften.