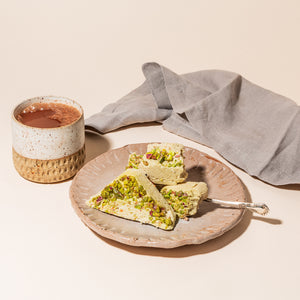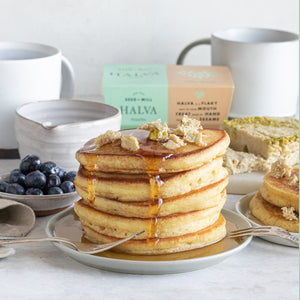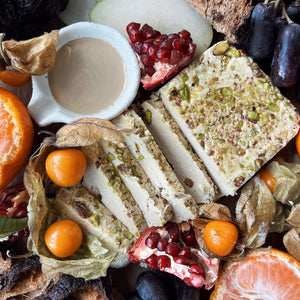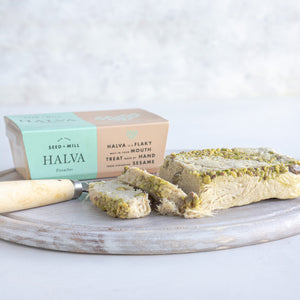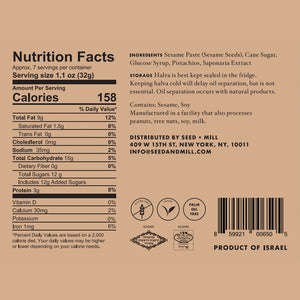 Halva
Pistachio Halva
OMG!!!
I discovered halvah back in my 20's when I spent a few years putting hubby thru in the NYC metropolitan area. I think I tried some a couple times after I worked my way across the country to the west coast. And halvah got added to my list of foods not fit to eat west of the NYC metropolitan area, definitely not west of Chicago.
I order 4 flavors. Interestingly my favorite is the toasted sesame. All are The Best Halvah I've ever had but the toasted sesame is amazing. I have shared some but only with people who sigh when I ask them if they like halvah and tell a similar story about never finding any worth buying.
I have never liked tahini but impulse added a jar (roasted garlic) to my order and I like that too. If it lasts I plan to try making hummus one day soon but so far the tahini is yummy on oatmeal and crackers.
Another tasty product from Seed + Mill
The only issue is that I could eat the entire container in a day. ;)
But that would not be a good idea and I want to enjoy it as long as possible.
Thank you for offering a great halva with these wonderful ingredients and flavors!!
YUM
Yum yum yummy. So so good.
LOVE, LOVE, LOVE
Great service and great products. Also had your halva sundae at Chelsea Market. OMG, SO DELICIOUS!!!
A beautifully packaged 8oz box of our best selling Pistachio halva! This classic and wildly popular flavor never fails to impress!  


The halva is certified kosher by the Rabbinate of Ashdod. Please email us if you would like to see the certificate.


SHIPPING: Your order will ship within 2-3 business days. We cannot guarantee a specific delivery date. Please reach out to info@seedandmill.com if you have any questions.

PISTACHIO: sesame seeds, cane sugar, glucose syrup, saponaria extract, pistachios. Contains sesame.


The halva pieces are packed upside down in a protective container. Flip each piece out of the container onto a cutting board when ready to serve.

Halva lasts for 4-6 months when stored in a cool, dry place, but we hope you eat it all before then! You can leave your halva in the small containers it ships in or in a similar airtight container. We don't recommend freezing halva, as it will damage the delicate, flaky texture. 

Check out our recipe page for creative ways to use halva in your kitchen.