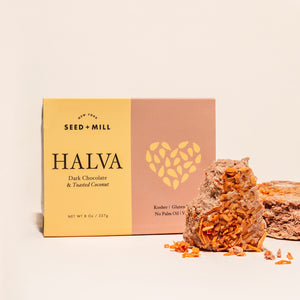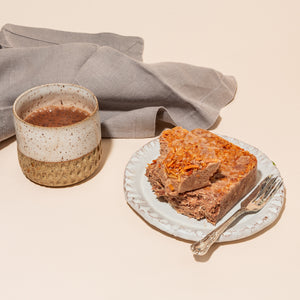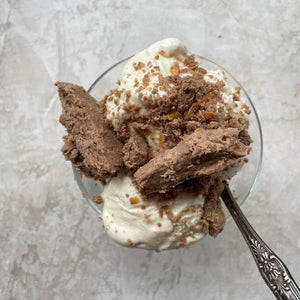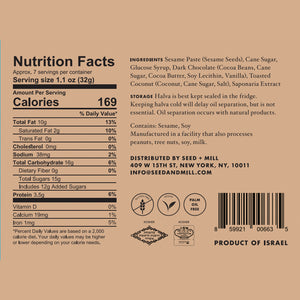 Halva
Toasted Coconut Chocolate Halva
Toasted Coconut Chocolate Halva
Halva Delivery
Ordered Halva for a gift…arrived promptly and packaged great. I highly recommend
Beyond perfect
I find a single problem with this delicacy - I can't stop eating it. The combo of halvah, coconut and chocolate is stunning. Thanks a million for making every dinner special. No other halva compares to the ones you make !
A beautifully packaged 8oz box of our best selling Toasted Coconut Chocolate halva! This delicious dark chocolate halva has a delightful texture thanks to coconut mixed throughout and a topping of golden toasted coconut flakes.


This halva is certified kosher by the Rabbinate of Ashdod. Please email us if you would like to see the certificate.


SHIPPING: Your order will ship within 2-3 business days. We cannot guarantee a specific delivery date. Please reach out to info@seedandmill.com if you have any questions.

TOASTED COCONUT CHOCOLATE: sesame seeds, cane sugar, glucose syrup, dark chocolate (cocoa beans, cane sugar, cocoa butter, soy lecithin, vanilla), toasted coconut (coconut, cane sugar, salt), saponaria extract. Contains sesame.


The halva pieces are packed upside down in a protective container. Flip each piece out of the container onto a cutting board when ready to serve.

Halva lasts for 4-6 months when stored in a cool, dry place, but we hope you eat it all before then! You can leave your halva in the small containers it ships in or in a similar airtight container. We don't recommend freezing halva, as it will damage the delicate, flaky texture. 

Check out our recipe page for creative ways to use halva in your kitchen.