This recipe comes from Ali Slagles' new cookbook I Dream of Dinner (so you don't have to).
"The bounty of spring veg both raw and charred."
INGREDIENTS
2 oranges
½ c Seed + Mill Organic Tahini 
¼ c soy sauce, Ali recommends low-sodium
1 tbsp ginger, finely grated
2lbs spring veg (any mix of asparagus, green beans, snap peas, snow peas)
10-12 oz ramen noodles, preferably fresh
½ c frozen, shelled edamame
sesame seeds
STEPS
1. Bring a large pot of salted water to a boil. Use a vegetable peeler to peel the rind from an orange. Squeeze 1 cup juice from 2 oranges into a large bowl. To the OJ, add the rind, tahini, and soy sauce. Add ginger into the bowl, season with S&P, and stir.
2. Trim the stem ends from the spring veg. Thinly slice on a diagonal ½ inch thick. Add half—only half—to the bowl, season with S&P, and stir to combine.
3. Add 10 to 12 ounces ramen noodles and edamame to the boiling water and cook according to the package directions. Drain, rinse, then stir into the sauce.
4. In the same pot, heat 2 tablespoons neutral oil over medium-high. Add the remaining half of the vegetables. Season with S&P and cook, stirring just once, until browned in spots, 2 to 4 minutes. Add everything in the sauce bowl and cook, tossing until the sauce is warm and glazy, 1 to 2 minutes. Shower with toasted sesame seeds.
Serves 4
Good hot, warm, or room temp.
Instead of ramen noodles, use soba, dried or fresh udon, or lo mein.
Brown tofu or ground chicken or pork before adding the vegetables in step 4. Remove, then add back with the sauce.
Reprinted from I Dream of Dinner. Copyright © 2022 by Alexandra Slagle. Photographs copyright © 2022 by Mark Weinberg. Published by Clarkson Potter, an imprint of Random House.
Our NEW squeeze-y tahini has landed at Sprouts Farmers Market! Try them both with a BOGO FREE offer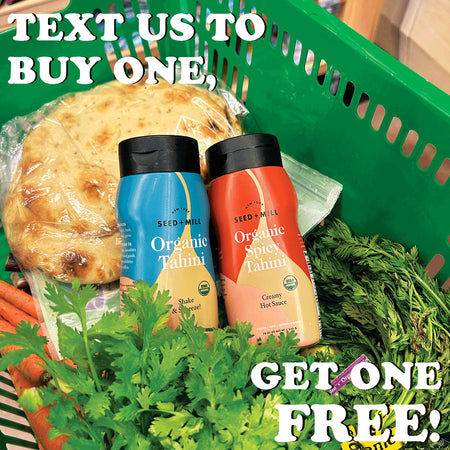 Get Offer