The perfect breakfast for cold mornings: baked cinnamon apple porridge, with a tahini drizzle, always! This time we added some 
Evolution 18 vanilla collagen
 for an extra nutritional kick!
INGREDIENTS
2 apples
100 g oats
200 ml milk (or dairy-free alternative)
300 ml boiling water
50 g toasted hazelnuts (or almonds if preferred)
50 g raisins (substitute with chopped dates or dried apricots if preferred)
2 tsp cinnamon
2 tbs honey or maple syrup
3 tbs Seed + Mill 
Organic Tahini
(plus extra for drizzling)
2 tbs Vanilla EV_18 protein powder
STEPS
1. Preheat the oven to 400 °F. 
2. In a bowl, combine oats, boiling water, and raisins and leave until the oats are soft, about 10 minutes.

3. While the oats soak, peel one of the apples and grate on a box grater.
4. Once the oats are soft add the grated apple to the oat mixture, together with the cinnamon, honey, milk, tahini and EV_18 powder. Stir to combine and then transfer the mix into a small baking tray.
5. Slice the second apple into thin slices (we use a mandolin for this, leaving in the core for a pretty star shape). Arrange the apples on top of the oat mixture. Sprinkle a touch more cinnamon and scatter the nuts across the top.
6. Bake for about 20 minutes, until the apples are starting to crisp up.
7. Serve warm with an extra drizzle of tahini!   
Our NEW squeeze-y tahini has landed at Sprouts Farmers Market! Try them both with a BOGO FREE offer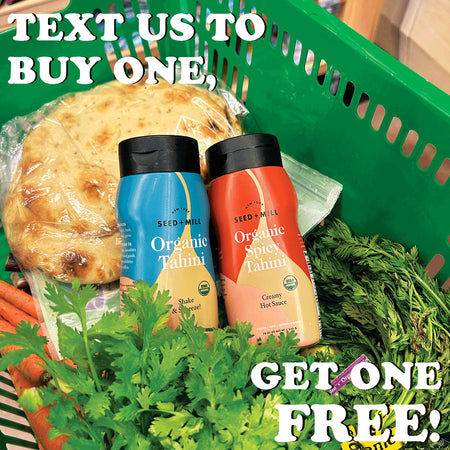 Get Offer