This recipe comes from our friend Chanie Apfelbaum's new cookbook, "Totally Kosher." These are perfect to stash in the freezer for a healthy sweet treat!
 "Frozen dates are a revelation! You will always find some in my freezer. I fill them with tahini, nut butter, chestnut cream, Nutella-- you name it! And for the topping--sesame seeds, crumbled Lotus Biscoff cookies, cocoa nibs, nuts, and always a pinch of Maldon sea salt flakes because I love salty-sweet. Here pretzels offer the crunch and pair especially well with the tahini."
INGREDIENTS
1 c semisweet chocolate chips
1 tbsp refined coconut oil
12 plump medjool dates, (about 9 oz)
¼ c Seed + Mill Organic Tahini
½ c pretzels, finely crushed 
Maldon sea salt flakes, for finishing
STEPS
In a small microwave-safe bowl, melt the chocolate chips and the coconut oil in 15-second increments, stirring between each, until completely melted and smooth. Or in a double boiler over medium heat, melt the chocolate chips, stirring until smooth. Stir in the coconut oil until combined.
Line a baking sheet with parchment paper. Cut a slit in each date and remove the pits. Using a spoon, fill each date with about 1 tsp of the tahini. Dip the dates into the melted chocolate and transfer them to the baking sheet. Quickly sprinkle them with the crushed pretzels and Maldon sea salt.
Transfer the baking sheet to the freezer and freeze about 20 minutes, or until the chocolate hardens. Store in an airtight container in the freezer for up to 2 months. 
"Totally Kosher" Copyright © 2023 by Chanie Apfelbaum. Photographs copyright © 2023 by Chanie Apfelbaum. Published by Clarkson Potter, an imprint of Random House.
Photo styling by Chaya Rapoport (@retrolilies)
Our NEW squeeze-y tahini has landed at Sprouts Farmers Market! Try them both with a BOGO FREE offer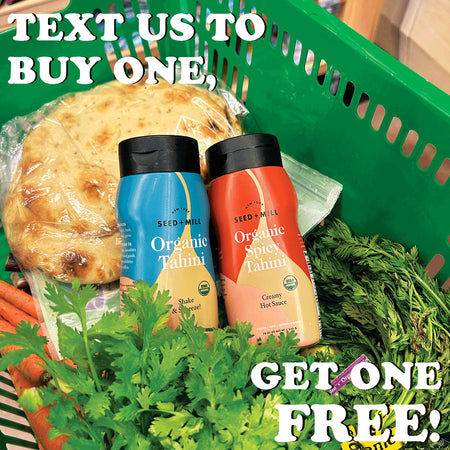 Get Offer