We learned how to make this recipe in a Kitchen Rodeo virtual cooking class hosted by west~bourne founder Camilla Marcus and Zahav chef/owner Mike Solomonov, benefitting ROAR New York and Independent Restaurant Coalition, and we're thrilled to share it with you.

INGREDIENTS
2 bunches of broccoli
1 jalapeño
½ cilantro bunch (roughly 2 ½ c)
2½ tbsp Seed + Mill Organic Tahini
¼ c water
½ c lemon juice
Kosher salt to taste
STEPS
1. To make the jalapeño tahini, first, chop off the thick stems of your cilantro bunch.
2. Rinse the leaves and tender stems and place in a steamer basket/strainer.
3. Bring a pot of water up to a simmer. Once simmering, place a steamer basket/strainer with cilantro atop the simmering water and cover for 1 minute. Remove the cilantro from the steamer basket/strainer and let cool on kitchen towel.
4. Once cool and dry, chop finely and set aside.
5. Cut the stem off your jalapeno, cut in half lengthwise and remove the seeds. Season one half with salt and olive oil.
6. Bring a small skillet up to high heat. Add some olive oil to your pan and wait until it's hot. Pan roast the jalapeno until charred. Remove from heat and let cool before coarsely chopping.
7. In a high powered blender, mix your blanched and chopped cilantro, charred jalapeno, tahini, water and salt to taste. Blend the ingredients until smooth. Season with lemon juice and set aside.
8. Floret your broccoli, keeping some of the stem intact so generous pieces of the vegetable hold together. Season with olive oil and salt.
9. Lay florets on a parchment lined baking sheet, in an even layer, being careful not to crowd the sheet tray to ensure the broccoli roasts and becomes crispy, as opposed to steaming.
10. Roast at 400°F for 5 minutes, or until deeply charred and tender.
11. Plate your charred broccoli florets, drizzle over top your jalapeno tahini and season with a little extra lemon to taste.
Our NEW squeeze-y tahini has landed at Sprouts Farmers Market! Try them both with a BOGO FREE offer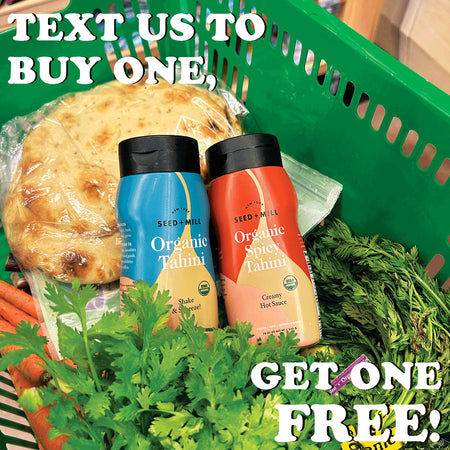 Get Offer