We try not to pick favorites when it comes to halva cookie recipes, but this one by our friend and neighbor, Christine Whelan, is definitely one of the most delicious we've tried (and we've made many in our time!). Christine is the fourth generation co-owner of Sahadi's, the iconic Brooklyn grocery store, dedicated to flavors of the Middle East. Her new cookbook, Flavors of the Sun, is full of family nostalgia, great tips on how to use Middle Eastern ingredients and LOTS of halva and tahini recipes!  
Recipe makes 2 dozen cookies.

INGREDIENTS
¾ c (165g) unsalted butter
2 c (280g) unbleached all-purpose flour 
½ tsp baking soda
½ tsp fine sea salt  
1 c (200g) light brown sugar
½ cup (100g) granulated sugar
2 eggs
2 tsp vanilla extract 
1 c (180g) bittersweet chocolate chunks
2 c (450g) Seed + Mill Pistachio Halva, cut into 1/2 in (12 mm) cubes
Maldon sea salt (optional)

STEPS
1. In a skillet, melt the butter over medium-low heat. Continue to cook, swirling the pan now and then, until the butter smells nutty and is a deep golden brown, 10 to 12 minutes. Pour into a  bowl, leaving behind as much of the dark sediment as possible, and let cool to room temperature.  
2. Whisk the flour, baking soda, and salt together in a bowl.
3. In the bowl of an electric mixer, combine the cooled butter with both sugars, the eggs, and the vanilla. Add the flour mixture, beating on low speed just until completely combined, scraping down the sides once or twice. Stir in the chocolate bits and all but ½ cup (115 g) of the halvah pieces by hand, mixing gently just to distribute through the dough.
4. Turn out the dough onto a large piece of plastic wrap and form into a flat disk. Refrigerate for at least 2 hours or  overnight.  
5. Preheat the oven to 325°F (160°C). Line two rimmed baking sheets with parchment paper.
6. Roll the dough into roughly shaped balls, 2 tbs at a time, and arrange on the baking sheet. Press one of the reserved halvah chunks into the top of each cookie and sprinkle with a few flakes of Maldon salt.
7. Bake the cookies until just set, 10 to 12 minutes. Cool on the pans for 10  minutes before transferring to wire racks to cool completely. Store the cookies in an airtight container for 3 to 5 days. 
Our NEW squeeze-y tahini has landed at Sprouts Farmers Market! Try them both with a BOGO FREE offer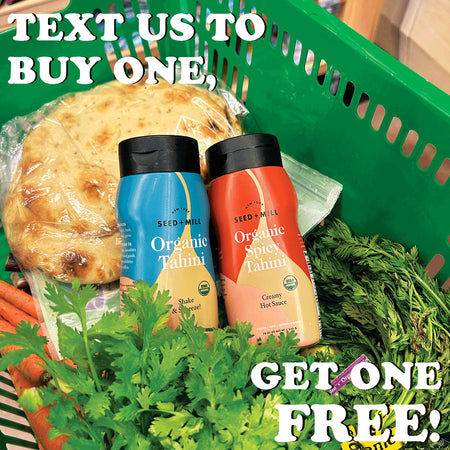 Get Offer