If you're a fan of peanut butter and chocolate, chances are you're a fan of tahini and chocolate as well; you just might not know it. Tahini has the same rich, nutty qualities that peanut butter does, only bolder, with a subtle earthy flavor that adds a whole new dimension. This recipe, from our friend Jesse Szewczyk's new cookbook, Cookies, tops a simple tahini and graham cracker base with silky chocolate ganache, creating savory-yet-sweet bars that are rich and fudge-like. They're easy to make and exciting to eat; and if you love cookies, be sure to pick up a copy of Jesse's gorgeous book at a bookstore near you!  

INGREDIENTS
For the graham cracker-tahini crust
¼ c (57g) unsalted butter
1 ¼ c (316g) Seed + Mill Organic Tahini, room temperature (see note)
2 tsp vanilla extract
½ tsp Kosher salt
2 c (200g) confectioners' sugar
1 c (113g) graham cracker crumbs (from about 1 sleeve/9 full crackers)
For the dark chocolate ganache
8 oz (about 1⅓ c/227g) semisweet or bittersweet chocolate, roughly chopped
½ c (118 ml) heavy cream
½ c (8 tbsp/113g) unsalted butter, cut into ½-inch cubes 
2 tsp vanilla extract
1 tbsp toasted white or black sesame seeds, or a combination

STEPS
For the graham cracker–tahini crust
1. Grease an 8 × 8-inch square baking pan with the nonstick pan spray. Line with parchment paper, leaving some overhang on all sides so it's easy to lift out the bars.
2. Whisk together the melted butter, tahini, vanilla extract, and salt in a large bowl until combined.
3. Add the confectioners' sugar and graham cracker crumbs. Stir with a rubber spatula until the confectioners' sugar is completely dissolved and the mixture is very thick. (It should be the texture of sticky Play-Doh.) Transfer to the prepared baking pan, spray your hands with pan spray, and press the mixture into an even layer in the bottom of the pan. Set aside.
For the dark chocolate ganache
1. Add the chocolate, heavy cream, butter, and vanilla extract to a medium, microwave-safe bowl. Microwave in 10-second increments, stirring between each, until the chocolate is completely melted and smooth, about 60 seconds total. Pour the chocolate mixture over the tahini base and use the back of a spoon to spread it into an even layer. Sprinkle the top with the sesame seeds and refrigerate for at least 6 hours or up to 2 days.
To finish
1. Take the bars out of the fridge. Run a large chef's knife under hot water, wipe with a paper towel, and slice into a 4 x 4 grid to make 16 pieces (the hot blade will help you make clean slices). Serve chilled.
Makes 16 bars
The bars will keep in an airtight container in a single layer in the fridge for up to 1 week
Photo courtesy of Chelsea Kyle
Our NEW squeeze-y tahini has landed at Sprouts Farmers Market! Try them both with a BOGO FREE offer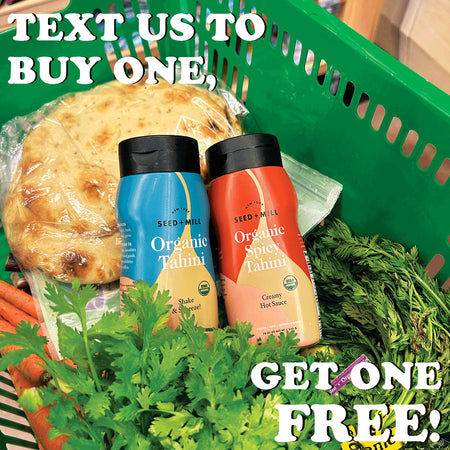 Get Offer