We're so excited to share this recipe from Andrea Gentl's debut cookbook, Cooking with Mushrooms. Between the delicious recipes and Andrea's breathtaking photography, you'll want to read this book cover to cover! For anyone skeptical of adding mushrooms to brownies: trust us, their earthy flavor and nutritional boost are well worth the effort! We added a tahini swirl just before we baked it for a little extra sesame flavor. 
"I am not a sweets person, generally, and usually temper any sweet I eat with a fair amount of savory ingredients, so including mushrooms and tahini here makes a lot of sense. Candy cap mushroom powder brings in a floral note and maple aroma, while lion's mane adds a buttery earthiness. [...] Just before baking, top with sesame seeds and sea salt. Dust with mushroom powder or dark cocoa powder and more sea salt before serving."
INGREDIENTS
Softened butter & unsweetened cocoa powder, for the pan
12 tbsp unsalted butter, cut into pieces
8 oz bittersweet dark chocolate, chopped into small pieces 
¼ c Seed + Mill Organic Tahini
1 tbsp candy cap powder
1 tbsp lion's mane powder
½ tsp Himalayan pink salt
3 large eggs, preferably organic, at room temperature
1½ c packed light brown sugar
½ c all-purpose flour
¼ c rye flour
¼ c semisweet chocolate chips
1 tbsp black sesame seeds
¼ tsp flaky sea salt, such as Maldon, plus more for topping
Mushroom powder of your choice, for topping (optional)
STEPS
Preheat the oven to 350°. Brush a 9-inch square baking pan with softened butter and dust with cocoa powder. 
In a medium saucepan, combine the butter, chocolate, tahini, mushroom powders, and pink salt. Heat over low heat until the butter and chocolate are melted and smooth, whisking to incorporate all the ingredients. Remove the pan from the heat and set aside to cool for 5 minutes. 
Meanwhile, in a medium bowl, whisk the eggs. Add the sugar and whisk by hand until fully incorporated and starting to ribbon, about 10 minutes. The eggs and sugar almost double in size when they have ribboned and have a light caramel color. It should ribbon off the back of the whisk. (I prefer to do this by hand, which takes a lot of arm strength, but you can use an electric mixer if you prefer; it should take about 5 minutes.)
Slowly fold the cooled chocolate mixture into the egg mixture with a flexible spatula. 
In a small bowl, whisk together the all-purpose and rye flours. In two batches, fold the flour mixture into the chocolate mixture until just combined and no streaks remain. Fold in the chocolate chips. Transfer the batter to the prepared pan and smooth the top. Sprinkle with the sesame seeds and flaky salt. 
Bake until a skewer inserted in the center comes out clean, about 35 minutes (check after 30 minutes).
Transfer the pan to a wire rack. Let the brownies cool completely in the pan. Once the brownies have cooled, dust with mushroom powder and flaky salt. The brownies should keep for up to one week, well wrapped at room temperature. 
Makes 9 brownies. 
Excerpted from Cooking With Mushrooms: A Fungi Lover's Guide to the World's Most Versatile, Flavorful, Health-Boosting Ingredients by Andrea Gentl. Artisan Books © 2022.
Our NEW squeeze-y tahini has landed at Sprouts Farmers Market! Try them both with a BOGO FREE offer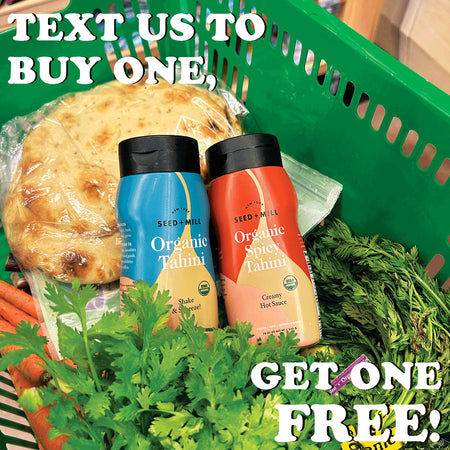 Get Offer