Welcome to your new favorite weekend breakfast recipe! We love topping overnight oats with fruit, as well as incorporating it into the base recipe. The fruit adds extra crunch, flavor, nutrition and, of course, beauty to your bowl (ie, perfect for entertaining or fulfilling your inner food stylist!). The final drizzle of tahini is a wonderful balance to the acidity of the fruit and makes it extra creamy. 
You may also recognize this recipe as Bircher Muesli, which is what our founder, Rachel, calls it. She often makes a double batch for her family on Sunday nights, so that breakfast is sorted for the rest of the week.   
 
INGREDIENTS
2 c old fashioned rolled oats
½ c coconut water
½ c unsweetened apple juice (use water if you prefer to keep it less sweet)
2 apples grated on a box grater (unripe pears, green mangoes or quince also work)
Juice ½ lemon
½ c Greek yogurt (plant based yogurts work well here too!)
2 tbsp Seed + Mill Organic Tahini, for drizzling
Extra seasonal fruit to serve (figs, kumquats and edible flowers all look so pretty!) 
STEPS
1. Place oats, apple, apple juice, coconut water, lemon juice in a covered bowl (at least 2 hours, but preferably overnight).
2. When ready to serve, mix through the yogurt and spoon into serving bowls.
3. Serve with with extra fruit and tahini drizzled over the top.
Serves 4 and will last up to 3 days in the fridge 
Our NEW squeeze-y tahini has landed at Sprouts Farmers Market! Try them both with a BOGO FREE offer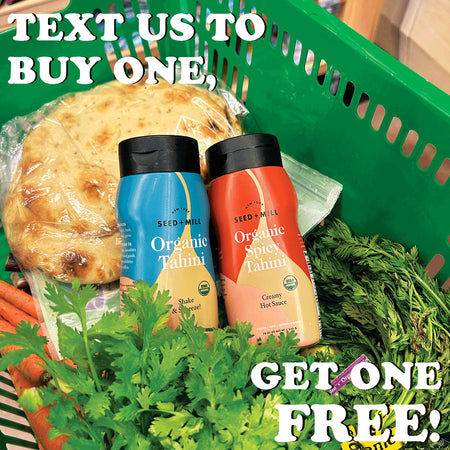 Get Offer