These tahini cookies are always a hit - try for yourself and let us know what you think!

INGREDIENTS 
1/2 c Seed + Mill Organic Tahini
1/2 c (1 stick) butter 
1/4 c sugar 
1 1/4 c brown sugar 
1/2 c chocolate chips
1/2 c Seed + Mill Halva (we like using our Toasted Sesame flavor best, but any flavor will work!)  
1 egg 
1 tsp vanilla 
1 1/3 c flour 
1 tsp baking powder
3/4 tsp baking soda 
1 tsp sea salt flakes 

STEPS
1. Pre-heat oven to 350 °F. In a stand mixer, combine butter, tahini, sugar. Turn on to medium speed and beat until smooth. Add egg, vanilla and increase speed, beating until fluffy. Turn off the mixer and add flour, baking soda, baking powder and mix on low speed until combined. Lastly, using a spatula, fold in chocolate chips and halva. 
2. Scoop balls of dough on parchment lined baking sheets and sprinkle sea salt over dough. Bake for 10-14 mins until golden and tops are crackly. We always give the baking sheet a bang on the counter while the cookies are still hot, to increase the crackliness!  

Dough will freeze well for up to 6 months. We ALWAYS make a double batch to keep for next time! 
Our NEW squeeze-y tahini has landed at Sprouts Farmers Market! Try them both with a BOGO FREE offer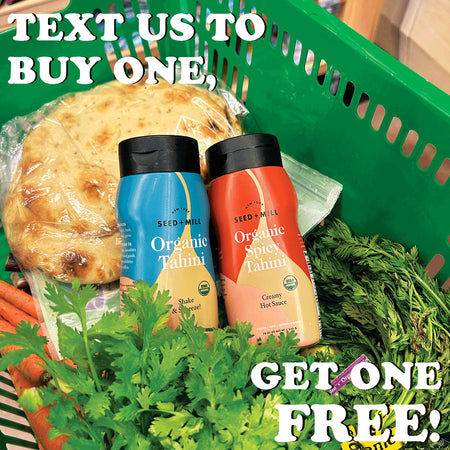 Get Offer