Try this amazing recipe from Gail Simmons. Here, she explains her inspiration for making hummus from scratch at home:

"I have been eating hummus of all kinds my whole life. I really believe that nothing compares to the deep flavor and silky texture you can get when you make it yourself. Packed with calcium and protein hummus is also a healthy snack. I am proudly, totally addicted! And using Seed + Mill's outstanding tahini in the base always makes it especially delicious. As a soon-to-be mama of two, I was thrilled to learn that tahini (and sesame seeds in general) is a great ingredient to help boost lactation when breastfeeding. So for all you new or soon-to-be moms out there, incorporate tahini into your diet!"

Photo: Johnny Miller Photography. Recipe excerpted from BRINGING IT HOME Favorite recipes from A Life of Adventurous Eating by Gail Simmons. Copyright © 2017 by Gail Simmons. Reprinted with permission from Grand Central Life. All rights reserved.

INGREDIENTS
1/2 tsp fennel seeds
One 15.5 oz can chickpeas, rinsed and drained
3 tbsp well-stirred Seed + Mill Organic Tahini
2 tbsp fresh lemon juice
1 small garlic clove, thinly sliced
3/4 tsp kosher salt
1/4 c ice water
1 tbsp extra-virgin olive oil
1 tsp harissa
1/2 tsp freshly grated lemon zest
2 tsp thinly sliced fresh mint

STEPS
1. In a small, dry skillet, warm fennel seeds over medium heat, occasionally shaking the pan back and forth, until fragrant and lightly golden, about 1 to 2 minutes.
2. Let cool slightly, then coarsely crush the seeds with a mortar and pestle, or by rocking the bottom of a heavy skillet back and forth over the seeds. Set aside.
3. In the bowl or a food processor, combine the chickpeas, tahini, lemon juice, garlic and salt. Purée until combined. With the machine running, drizzle in the ice water. Continue to purée until you have a very smooth and creamy hummus, about 3 minutes 
4. In a small bowl, whisk together the oil, harissa, and lemon zest.
5. Spread the hummus onto a serving plate. Use the back of a large spoon to swirl and create a little dip in the middle. Drizzle with the harissa oil, sprinkle with the mint and toasted fennel seeds and serve.
Our NEW squeeze-y tahini has landed at Sprouts Farmers Market! Try them both with a BOGO FREE offer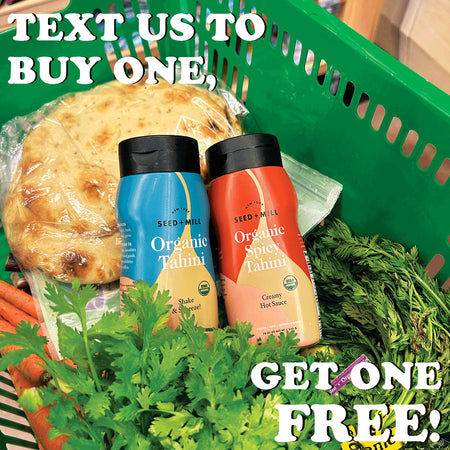 Get Offer