This super simple, incredibly flavorful recipe comes from Jing Gao's new cookbook, "The Book of Sichuan Chili Crisp." Jing is the founder of Fly by Jing, one of our go to brands for savory, spicy pantry staples. In the book, the recipe calls for sesame paste, but we used tahini and it turned out beautifully!
"Strange flavor is one of Sichuan's famous twenty-four iconic flavors that linger on your mind and taste buds. Complex and balanced, it works when drizzled on almost any canvas. It is so named because of the strangely alluring blend of sweet, spicy, savory, nutty, and tingly elements. You can't put your finger on what exactly it is, but somehow everything works in unison. To me, strange flavor is magic. I love to pour it over any protein like shredded chicken breast, crispy tofu, or raw fish, as shown in this recipe, but you can really add it to anything you like. That's its beauty. Lettuce cups are a delightful base for this poke, but you can also serve it over rice."  
INGREDIENTS 
For the Strange Flavor Sauce
1/8 c water 
1/4 c Seed + Mill Organic Tahini
1/4 c light soy sauce 
1/4 c Chili Oil  
1 tbsp black vinegar
1 tbsp sugar
2 tsp sesame oil
1 tsp kosher salt 
1/4 ground roasted Sichuan pepper
For the Poke
1 lb sushi-grade fish (such as tuna or salmon), diced into bite-sized chunks
1/2 c Strange-Flavor Sauce 
1 head butter lettuce 
Toppings (optional) 
Roasted sesame seeds 
Crushed peanuts 
Cilantro 
Pickled red onions

STEPS
For the Sauce:
1. In a medium bowl, add the water to the tahini and mix until creamy. Add the soy sauce, chili oil, vinegar, sugar, sesame oil, salt, and roasted Sichuan pepper and mix well to combine, making sure to completely dissolve the salt and sugar. Store in an airtight container in the refrigerator for up to 2 weeks. 
For the Poke
1. In a large bowl, toss the fish chunks with the sauce. 
2. When ready to serve, portion out roughly 2 tbsp for each lettuce cup and finish with your desired toppings. 
Excerpted from The Book of Sichuan Chili Crisp by Jing Gao. Copyright © 2023 Jing Gao. Photography by Yudi Ela Echevarria and Robert Nilsson. Published by Penguin, an imprint of Penguin Canada, a division of Penguin Random House Canada Limited. Reproduced by arrangement with the Publisher. All rights
reserved.


Our NEW squeeze-y tahini has landed at Sprouts Farmers Market! Try them both with a BOGO FREE offer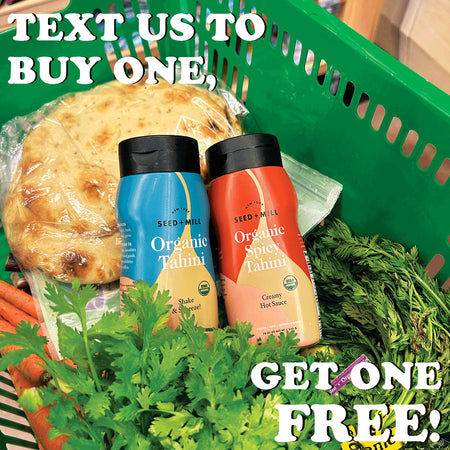 Get Offer