This leek tarte tatin, served with a lemony tahini drizzle makes for an impressive vegetarian meal! Once caramelized, the leeks become super soft and sweet - each bite made more delicious with a creamy tahini sauce! We enjoyed this tarte alongside a fresh, green salad.
INGREDIENTSFor the tarte tatin
4 leeks
2 tbs extra virgin olive oil
1/2 c white wine
1 1/2 tbs sugar
1 tsp vino cotto (or good quality aged balsamic vinegar)
1 sheet puff pastry (store-bought is fine, or make your own if you're brave!)
1 tbs thyme, chopped
Sea salt flakes and pepper, to taste
2 tbs green herbs (parsley, mint or basil all work well)
For the lemony tahini drizzle

1/2 c Seed + Mill 
Organic Tahini
2/3 c water
3 tbs fresh lemon juice
3/4 tsp sea salt (or to taste)
STEPS
1. Preheat oven to 400 °F.
2. Trim off the dark green part of the leeks and discard them. Slice leeks crosswise into 1-2 inch pieces.
3. Add oil to a 7" (base measurement) non-stick, oven-proof frying pan and place over a medium heat. Add leeks, cut side down and cook for 2 minutes before turning to brown on each side. Cook for another 2 minutes or until lightly caramelized. Add 1/2 c of wine and cook for another 1-2 minutes. Transfer the pan to the oven and bake for 20 minutes or until the leeks are just tender. Remove from the oven and set aside.
4. While leeks are in the oven, place the sugar and remaining white wine in a small saucepan. Cook over medium heat until reduced and syrupy. Stir through the vino cotto (or vinegar) and set aside to cool.
5. Cut the pastry into an approximately 9 1/2 inch disc. 
6. Drizzle 1 tsp of the vino cotto mixture over the caramelized leeks; sprinkle over the chopped thyme. Top with the pastry and tuck in around the edges and prick the pastry with a fork to vent for steam. Bake for 45 minutes or until pastry is puffed up and browned.
7. Remove from the oven and allow to stand for 2 minutes before inverting onto a serving platter. Drizzle with the remaining vino cotto mixture, herbs, pinch of sea salt flakes and freshly ground pepper.
8. Finally, make the tahini drizzle by whisking all ingredients together in a small bowl.
9. Start with 2/3 c of water and add more until you reach the desired consistency.
10. Serve the leek tarte tatin with the tahini sauce on the side or drizzle over the top.
Serves 6. Dressing will keep up to 3 days in the refrigerator. 
This recipe was adapted from a version we loved by Australian Chef, Maggie Beer.
Our NEW squeeze-y tahini has landed at Sprouts Farmers Market! Try them both with a BOGO FREE offer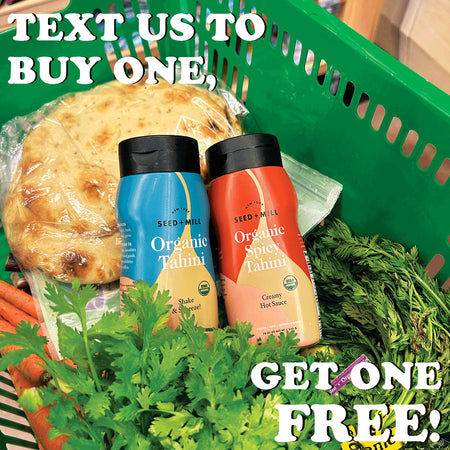 Get Offer