This recipe comes from our friend Nicole Modic's new cookbook Love to Eat. Watch us make it on Youtube and Reels. 
"I'm going to let you in on a little secret: I'm probably one of the only people out there who isn't a big oatmeal fan. When I wake up in the morning, I don't think to myself, "Gosh, I can't wait to go make a big bowl of oatmeal." That doesn't excite me. If making oatmeal doesn't excite you either, I'm going to show you a new way to enjoy it: baked. When you bake oatmeal, it becomes cakelike, with a crunchy top and soft, creamy inside. And, it's easy to pre-portion and cut into squares to enjoy all week.
...
Now let's chat about tahini, my favorite ingredient in the history of mankind. Tahini is a spread made from ground sesame seeds, and it's deeply rooted in my Armenian heritage. While we traditionally use tahini in savory dishes like hummus, I incorporate it into several of my sweet dishes, too, for a unique taste that you truly won't believe until you actually try it."
INGREDIENTS
Avocado oil, for the pan
½ c mashed banana (the riper the better), plus banana slices for topping
2 flax eggs  
2 tbsp maple syrup 
2 tbsp white miso
2 tbsp Seed + Mill Organic Tahini
¼ tsp sea salt
1½ tsp ground cinnamon
2 c nondairy milk of your choice
2½ c gluten-free rolled oats
¾ c dairy-free dark chocolate chips
¾ c chopped walnuts, pecans, or nuts or seeds o your choice, such as pepitas, sunflower seeds, or hemp seeds (optional)
Warmed nondairy milk or yogurt, for topping
STEPS
Preheat the oven to 350°. Grease a 9 by 13-inch baking dish with the oil. You can also line the baking dish with parchment paper if you choose. I recommend greasing the inside of the dish first so the parchment sticks. 
In a large bowl, combine the banana and flax eggs and mash it all up using a fork. Add the maple syrup, miso, tahini, salt and cinnamon and whisk together until well combined. Add the milk, followed by the oats and half of the chocolate chips, then stir to combine.  
Transfer the mixture to the prepared baking dish and top with the banana slices, nuts and the remaining chocolate chips. 
Bake for 30 to 35 minutes or until the top is golden brown. The edges, too, should be golden brown, and the center should have some springiness (like a cake). 
Remove the pan from the oven, place on a wire rack, and let cool for about 5 minutes before slicing into squares. 
Serve warm, topped with the warmed milk. Store leftovers in an airtight container in the refrigerator for up to 1 week. 
Serves 4-6
Our NEW squeeze-y tahini has landed at Sprouts Farmers Market! Try them both with a BOGO FREE offer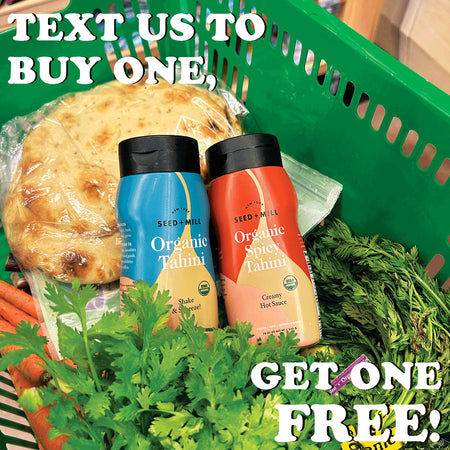 Get Offer