"This recipe was given to me by my dear mentor, Eli Mizrahi. Hummus was his love language and I fell in love with it through him. Every Saturday, he would wake up early and go to the Muslim quarter of the old city of Jerusalem and go to his local spot - Arafat - and bring home some tubs for the whole family. We would eat it in the afternoon sunlight and take a good Shabbat nap after. 
This recipe is so simple and always captures the hearts of all who dig in. I love making this for friends because I definitely don't have to worry that they'll leave my house hungry, my biggest nightmare."
INGREDIENTS 
For the Hummus
1 lb dried chickpeas (or 15oz can of cooked chickpeas, drained, reserving 1-2 tbsp of the liquid)
1 tbsp baking powder
2c Seed + Mill Organic Tahini
4-5 cloves of garlic 
Juice of 2 lemons
Some of the chickpea cooking water, reserved (unless using canned)
Salt & pepper, to taste
For the Mushrooms
1lb mushrooms of any variety
5-6 cloves of garlic 
1 tbsp fresh thyme
1 tbsp butter (or olive oil if vegan)
1 tbsp olive oil
Salt & pepper to taste 

STEPS
For the Hummus
1. Soak the chickpeas in water along with the baking powder for 24-48 hours.
2. Drain the soaking water and refill with freshwater, placing the pot on medium heat and cooking for 25-30 minutes, until soft. Reserve some of the cooking water and drain.
3. Add the chickpeas to the blender with the lemon and garlic and blend on high for 2 minutes. It's gonna be noisy. Add the tahini and continue blending, gradually adding the reserved cooking water to reach the right consistency -thick but smooth.
4. Place chickpeas and 2-3 tbsp liquid from the can in a food processor or powerful blender and blend until smooth (approx. 1-2 mins).
For the Mushrooms
1. Heat a medium skillet over high heat with the olive oil and butter. Once heated, add thyme and garlic and lower the heat to medium. Add the mushrooms and sauté until charred and fragrant, usually about 8 minutes.
To Plate
1. Spoon the Hummus into a shallow bowl and make a large well in the middle with a spoon. With the same spoon. ladle in the mushrooms. Drizzle some great olive oil on top, and serve with pita - or with my crispy focaccia.
Serves 12
Our NEW squeeze-y tahini has landed at Sprouts Farmers Market! Try them both with a BOGO FREE offer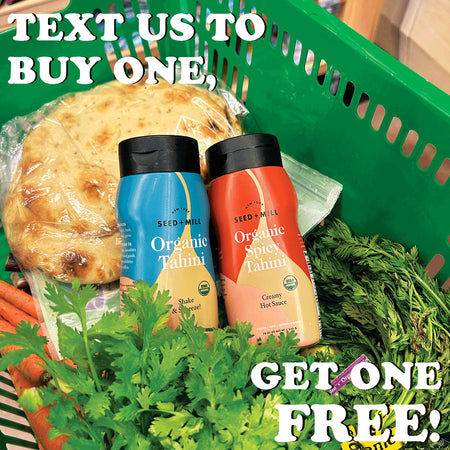 Get Offer