While we understand the need for convenience, it never ceases to amaze us how easy it is to make your own hummus with a couple of basic pantry staples. That fresh taste and the satisfaction of having made it yourself (without all the preservatives) is unbeatable.

We're asked all the time for our favorite hummus recipe. There are so many variations on this classic dip, but honestly, so long as you're using quality ingredients, it's almost impossible to go wrong. In our (maybe not so humble….) opinion, the best hummus is all about using the best quality tahini.

The last time we made this recipe, we used a wonderful quality olive oil from our friends at Brightland and finished it off with a tangy spice blend from our friends at Burlap & Barrel. Watch us make it on Youtube and Reels. 
INGREDIENTS
1 can of cooked chickpeas, drained
½ c Seed + Mill Organic Tahini, (we often use our Organic Roasted Garlic Tahini & skip the clove of garlic)
2-3 tbs olive oil, plus extra for drizzling
Juice of 1 lemon*
1 clove of garlic
5-6 tbsp water
Salt & pepper, to taste
Optional toppings include: extra olive oil or tahini, spices, fresh herbs, dukka!
STEPS

Place all of the ingredients in a food processor and blend until smooth.

After 1-2 mins in the blender, scrape down the sides and taste to adjust for flavor. You might want to add some extra salt, pepper, garlic or lemon juice for flavor.

If your hummus seems too thick, you can add 1-2 more tbs water to loosen. The texture should be light and pillowy.

To serve, we always spread the hummus over a plate, using a spatula to create cavities, that we will with an extra drizzle of tahini, olive oil, spices, fresh herbs - be adventurous!
 *We like our hummus extra tangy, so if your lemon isn't super juicy, we would recommend adding the juice of a second lemon (or at least tasting it while in the blender to decide if you want a bit extra).
Our NEW squeeze-y tahini has landed at Sprouts Farmers Market! Try them both with a BOGO FREE offer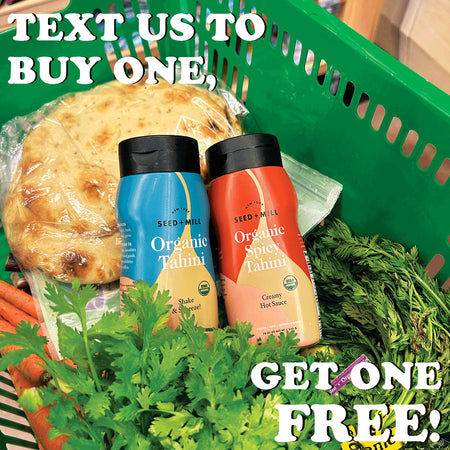 Get Offer