There is so much we love about this dish, made with smoked tinned salmon from our friends at Fishwife! The green tahini sauce is 'lick the plate' worthy and comes together in under a minute's prep! You can make the sauce in advance and keep it in the fridge for up to three days. We made these salmon cakes with a couple of pantry staples and our Friday night leftovers……always love a double duty dish! 
INGREDIENTS
For the salmon cakes:
2 tins of Fishwife Smoked Salmon
1 c boiled potatoes, chopped (we happened to have roasted potatoes from the night before that we chopped into small pieces)
1 c farro cooked in vegetable stock (again, we used left over farrow from dinner the night before)
2 eggs
½ cup panko bread crumbs
Rind of 1 lemon
Pinch of salt and pepper
2-3 tbs vegetable oil (or oil spray) 
For the tahini sauce:
1 c of mixed fresh green herbs (we used basil, mint and parsley, including stems)
Juice of ½ a lemon
1 c Seed + Mill Organic Tahini or use our Za'atar Tahini for extra 'herbiness'!
1 tbs hot honey (use regular honey if you don't want the spice or maple syrup to make this vegan) 
¼ c iced water 
1 tsp sea salt, pepper to taste 

STEPS
For the fish cakes:
1. Preheat the oven to 400°F.
2. Mix salmon, potatoes, farro, eggs, salt and pepper in a bowl until well combined. The mix should remain chunky.
3. Spread bread crumbs and lemon rind over a plate. Using damp hands, roll salmon mix into balls (approx. 2 inch diameter) and gently roll in the breadcrumb mix until well coated.
4. Place balls on parchment lined sheet pan. Gently press down on each ball so it forms more of a patty shape, rather than a round ball. Mix should make approximately 8 cakes.
5. Spray/drizzle each cake with vegetable oil and bake for 30 mins, or until golden brown. While cakes are in the oven, prepare tahini sauce.
For the tahini sauce:
1. Place herbs, honey, lemon juice, tahini, salt and pepper in a blender or food processor. Blend until smooth (it might appear a bit chunky at first).
2. Slowly add iced water until the consistency is smooth. For a thicker consistency, add more tahini, for a thinner consistency, add more water.
3. Serve cakes with a side dish of tahini sauce or swoosh the sauce over a large serving plate and place the cakes over the top. Garnish with extra herbs, cracked pepper and additional lemon rind! 
 Makes 8-10 cakes
Our NEW squeeze-y tahini has landed at Sprouts Farmers Market! Try them both with a BOGO FREE offer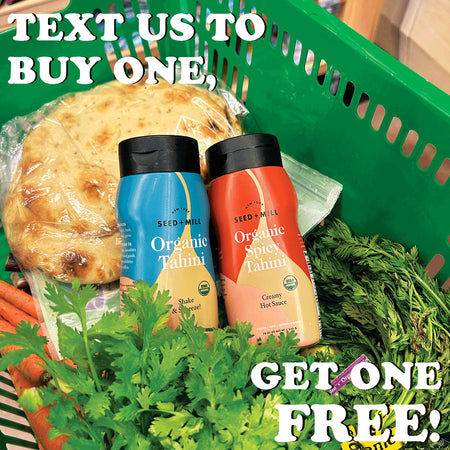 Get Offer