These delicate flaky shortbread cookies are fun for the holidays or any other special occasion! 
They're also a fun baking project with the family, with the littlest thumbs being the perfect size for cookie dough prep!  The tahini gives the cookie dough a deep nutty flavor, almost savory, which is then balanced perfectly with a dollop of Chocolate Date Tahini and a sprinkle of flaky sea salt! 
For the base shortbread recipe, we adapted one of our favorites by Michael Solomonov and Stephen Cook, from their book, Zahav!
Watch us make them on Youtube.

INGREDIENTS
1 3/4 sticks (7oz) unsalted butter, room temperature
1 c sugar
1 c Organic Seed + Mill Tahini 
2 c all-purpose flour
1 tsp baking powder
1 pinch kosher salt
¼ c sesame seeds
¼ c Chocolate Date Tahini, with extra for drizzling (see below to make your own!)

STEPS
1. Combine the butter and sugar in a stand mixer on medium speed or in a large bowl with a hand mixer and mix until light and fluffy (approx. 2 mins). Add the Tahini and continue mixing until well incorporated, scraping the sides of the bowl to be sure the tahini is well mixed through.
2. Combine the flour, baking powder, and salt in a mixing bowl and whisk together. Transfer to the tahini mixture and mix until just incorporated. Cover the bowl with plastic wrap and refrigerate for at least 1 hour or overnight.
3. Preheat the oven to 350° F. Line two baking sheets with parchment paper.
4. Place sesame seeds in a small bowl. Gently roll small (tablespoon sized) balls of cookie dough in the sesame seeds and place on baking sheets (about 2 inches apart).
5. *Using your thumb, place a small indent in the center of each cookie and fill with a small dollop of Chocolate Date Tahini.
6. Bake the cookies until they are light brown around the edges and set (about 15 mins).
7. Let cool on the baking sheet for 10 minutes, then transfer to a wire rack to cool completely.
8. For some extra flair, use a spoon to drizzle some extra Chocolate Date Tahini to finish, with a sprinkle of flaky sea salt.
If our Chocolate Date Tahini is unavailable (it's a limited edition product), you can make your own with 1 tbs date syrup, 1 tbs tahini and 2 tbs cocoa powder/melted dark chocolate!
*Check out our quick how-to video here!
Photo and video courtesy of Noreen Wasti
Our NEW squeeze-y tahini has landed at Sprouts Farmers Market! Try them both with a BOGO FREE offer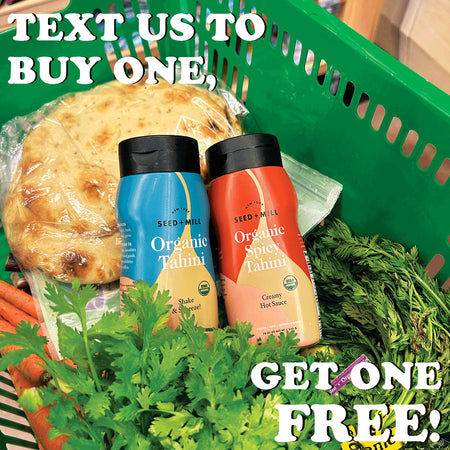 Get Offer