This clever no-recipe recipe comes from The Global Pantry Cookbook. It's quickly become our favorite dessert; not only is it incredibly delicious, but it comes together in under 10 minutes & uses just 4 ingredients!

"When Scott lived in Brooklyn, his kids called New Jersey-invented Häagen-Dazs ice cream Huggin' Dogs, and the family fashioned new flavors with the simple hack of softening the iconic vanilla variety-- still the best big-company vanilla around, with only five ingredients and no stabilizers-- and then working in a few big-flavor ingredients before refreezing. Chunks of palm sugar worked beautifully (the bits turn gooey in the freezer), as did Grape-Nuts that softened to a chewy-malty state. The tahini and pine nut hack offered here is a total nutsplosion, perfect with a slice of banana bread or a very crunchy cookie."

INGREDIENTS 
3 tbsp Seed + Mill Organic Tahini 
1/4 tsp kosher salt 
1 pint vanilla Häagen-Dazs or other premium ice cream
1/2 c toasted pine nuts 

STEPS
1. Mix the tahini with the salt in a small bowl

2. Soften the ice cream in the fridge until a spoon goes in without brute force but the ice cream has not begun a serious meltdown. Squeezing the tub also works; it should give a bit but not too much. Put the ice cream in a large bowl (don't toss the container), and work in the pine nuts with a silicone spatula or wooden spoon. Pour the tahini-salt mixture over the mass, cutting it in a few times with the spatula but not overmixing; you want a ribbon effect. Return the ice cream to its container (it will bulge out the top a but), and cover with the lid or plastic wrap. Freeze for 2 hours or until hardened but scoopable. 
Excerpted from The Global Pantry Cookbook: Transform Your Everyday Cooking with Tahini, Gochujang, Miso, and Other Irresistible Ingredients by Ann Taylor Pittman and Scott Mowbray. Workman Publishing © 2023.
Our NEW squeeze-y tahini has landed at Sprouts Farmers Market! Try them both with a BOGO FREE offer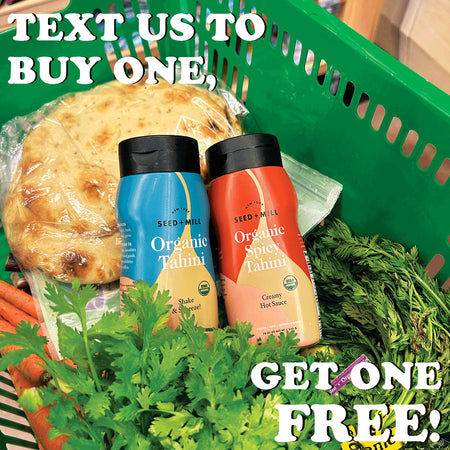 Get Offer