This recipe comes from Chris Nuttal Smith's incredible new cookbook Cook It Wild. It's packed with adventure-ready recipes written with camping in mind, but equally as delicious in any setting! We can't get enough of this stunning magenta-hued hummus. It's a gorgeous addition to any snacking spread, and we can't wait to wow our guests with it this summer! 
INGREDIENTS
1 medium red beet
1 tsp extra virgin olive-oil, plus more for topping
1 tsp water, plus ¼ c
Kosher salt
1 c canned chickpeas, drained
½ tsp baking soda
2 garlic cloves, unpeeled
¼ c lemon juice, plus more for seasoning
⅓ c Seed + Mill Organic Tahini 
Serves 4-6
STEPS
Preheat the oven to 375°F. Place the beet on a piece of aluminum foil, coat it with the olive oil, and add the 1 tsp water and 1/8 tsp of salt. Wrap the foil tightly around the beet, then roast until a fork pierces it easily, 60 to 90 minutes. Remove from the oven. Once cool enough to handle, slip off and discard its skin, root and stem with your hands or a paper towel. Coarsely chop and set aside. 

Meanwhile, in a small saucepan, combine the chickpeas and baking soda, add enough cold water to cover by a few inches and set over medium-high heat. Bring to a boil, then decrease the heat to medium and cook until the chickpeas turn mushy, about 1 hour. Drain.

In a blender or food processor, combine the garlic (skin on!), lemon juice, and 3/4 tsp salt. Pulse to coarsely chop. Let stand 10 minutes. Set a fine mesh strainer over a bowl. Add the processed garlic and press with a spatula to squeeze out the liquid. Discard the solids, then return the reserved garlic-lemon mixture to the blender. 

Add the tahini, chopped beet, simmered chickpeas, and remaining 1/4 c water to the garlic-lemon mixture. Blend on high speed until the hummus is smooth. Add salt and lemon juice as needed. Transfer the hummus to an airtight, leak proof container, top with a thin layer of olive oil, and refrigerate, or omit the oil and freeze. (It will keep for up to 1 month frozen).
Stir the hummus well, then serve topped with a generous drizzle of olive oil, a squeeze of lemon juice, if desired, and pita bread.
Our NEW squeeze-y tahini has landed at Sprouts Farmers Market! Try them both with a BOGO FREE offer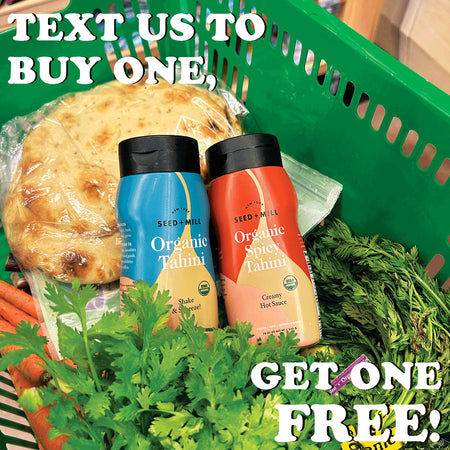 Get Offer