Hannukah inspired Apple Latkes, served with our favorite tahini cream cheese frosting, make for a fun twist on your regular latkes. With 8 days of fried food to consume over the Hannukah holiday, we were searching for something sweet to balance out all those potatoes! The frosting is intentionally not too sweet, adding a creamy textural element and finishing things off deliciously! 
A quick note about serving: these latkes are divine when eaten immediately after you've made them! If this isn't possible and you need to make them in advance, you can always re-heat or enjoy cold, but nothing replaces the satisfaction of a crispy, hot, latkes served straight out of the fry pan! We literally gobbled these up, while crowded around the kitchen benchtop, not even waiting for a plate or fork! 
One (more) quick note about patience: while hot latkes are truly the best, waiting a second or two before eating these will avoid a burnt tongue :)
Watch us make them on Youtube and Reels. 
INGREDIENTS
For the fritters
2 apples (approx) to make 1 c when grated (we used Granny Smith because we love their tart flavor) 
1 large egg
1 c all-purpose flour 
½ tsp baking powder
¼ tsp baking soda
⅓ c Greek yogurt + ⅓ c low-fat milk
½ tsp ground cinnamon (plus an extra sprinkle for the topping)
2 tbsp sugar
Vegetable oil or olive oil, for frying
For the tahini cream cheese frosting
4 oz cream cheese, softened
2 tbsp unsalted butter, softened
1 ¾ cup powdered sugar
¼ c Seed + Mill Organic Tahini
1 tsp vanilla extract
¼ tsp salt
STEPS
This recipe works best if you make the frosting first and set it aside (you can make the frosting up to 2 days ahead and keep in the fridge).
For the frosting
To make the frosting, combine all the ingredients into a stand mixer on medium speed (or a bowl, if using a hand mixer) and mix until smooth. Scrape down the sides a couple of times to make sure all the ingredients are well combined.
For the fritters
Whisk the egg, yogurt and milk and set aside.
Combine the flour, baking powder, baking soda, cinnamon and sugar in a bowl and set aside.
Peel and grate the apples.
Pour the egg and yogurt mixture into the flour bowl, add the grated apples and, using a spatula, gently fold it together.
Pour a generous amount of vegetable oil in a cast iron skillet or fry pan (approx. ½ inch up the side) and place on your highest heat setting.  Wait until the oil is sizzling hot (we usually test this by flicking a drop of water into the oil and wait for it to bubble/sizzle) - this usually takes about 2 minutes. 
Dollop spoonfuls of the apple batter into the sizzling oil (we used two spoons to help scrape the batter off the spoon and press down on the little latkes in the pan). Don't overcrowd the pan or the latkes won't fry up (we usually do about 3 at a time).
Fry on each side for a couple of minutes, until golden brown.
Remove fritters to a plate, lined with paper towel to absorb excess oil, and continue cooking in batches until you've used up all the batter.
Serve each fritter with a generous dollop of the cream cheese frosting and an extra dusting of cinnamon!
Our NEW squeeze-y tahini has landed at Sprouts Farmers Market! Try them both with a BOGO FREE offer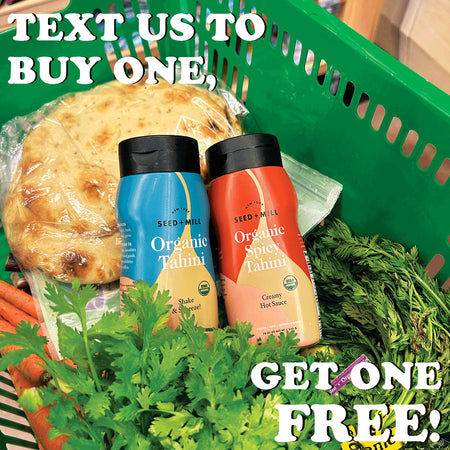 Get Offer