We had a ball baking this sweet, textured, cake with cookbook author, Stella Hanan Cohen last week at Rachel's apartment in New York. Watch them make it on Youtube and Reels. To describe Stella as anything other than a culinary force of nature is a true understatement. Her book, Stella's Sephardic Table, is full of recipes from Stella's ancestral home of Rhodes. It includes a detailed history of Mediterranean food as well as stunning photographs of her food, beautiful family and entertaining ideas.  Stella's intimate knowledge and passion for Sephardic food is a joy to behold and we'll be cooking and baking our way through her book for years to come.  
The frosting for this recipe is especially unique in that it combines tahini with mastic, an indigenous plant based gum grown in Greece. The piney scent of the Mastic, together with the earthy tahini cuts through the sweetness of the frosting, giving this cake an indulgent topping that we couldn't stop eating! The mixing bowl was literally licked clean.....  
Note: you can find Mastic online or at plenty of natural grocery stores. But, if you can't find the Mastic, this cake and frosting will still be delicious - it's not an essential ingredient! 
INGREDIENTS
For the Cake
6oz (175g) Medjool pitted dates, chopped 
1 cup (300ml) water
1 tsp baking soda (bicarbonate of soda)
6 tbsp (75g) unsalted butter, at room temperature 
½ cup (175g) lightly packed brown sugar 
1 tsp vanilla extract 
3 eggs, at room temperature 
1 cup all-purpose flour, sifted
1 tsp baking powder
¼ tsp kosher salt 
½ cup walnuts or pecans, chopped
 For the Tahini Frosting 
4 oz cream cheese, softened
2 tbsp unsalted butter, softened
1¼ c powdered sugar
¼ c Seed + Mill Organic Tahini 
1 tsp vanilla extract
¼ tsp salt
1 tsp granulated sugar
4 Mastic crystals 
For the Walnut Praline Topping
½ cup chopped walnuts
2 c water
1 c granulated sugar 
STEPS
For the Cake
Preheat the oven to 350Fº. Generously grease the base and sides of a 8 inch (20 cm) spring form cake pan.
In a small saucepan over medium heat, combine the chopped dates and water, cover, and simmer for about 5 minutes.
Turn off the heat and let sit in the soaking liquid for another 5 minutes until tender.
Remove from heat. Stir in the baking soda and set aside to cool a little.
In a bowl of a stand mixer fitted with a paddle attachment, beat the butter on medium-high speed until creamy for 5 minutes.
Adjust the mixer speed to low, add the sugar and vanilla to the butter and beat until light in color and fluffy, about 5 minutes.
Adjust the speed to medium-low and add the eggs one at a time until just incorporated. Do not worry if it curdles, it will come back together again.
Add the flour with the salt and baking powder at low speed until combined and remove paddle attachment.
Fold in the date mixture and nuts with a spoon to combine. Do not over-mix.
Pour the batter into the prepared pan and bake for 45 minutes or until a toothpick inserted into the center of the cake comes out clean.
Remove from the heat. Allow to cool in the pan then invert onto a plate.
For the frosting

While the cake is in the oven, prepare the mastic by placing the crystals in a mortar and pestle and grind with the sugar until it's crushed into a fine powder. 
Then add all of the ingredients, including the Mastic, into a stand mixer and beat until well combined and fluffy (approx. 2-3 mins, a hand held mixer works fine here too).
The frosting can be made up to 2 days in advance and kept in the fridge. 
For the Walnut Praline
Pour the water and sugar into a small pan and place over a low heat to dissolve the sugar. Make sure that the water doesn't boil before it has dissolved.

Once the sugar has dissolved, increase the heat (make sure you don't stir during this process). Boil the syrup for approximately 10 mins, or until it turns a golden color. Watch the caramel carefully so that it doesn't burn.

While the sugar is boiling, spread the chopped nuts over a piece of parchment paper on a sheet pan or chopping board and have an additional piece of parchment paper handy.

Once the sugar syrup starts to turn into a golden caramel color, give it a gentle swirl to make sure it's evenly cooked and then pour it immediately over the chopped nuts, making sure that all of the nuts are covered.

Allow the nuts and sugar to cool into a flat sheet (approx 10 mins). Once cool, place the second piece of parchment paper over the top and use a rolling pin to smash into small shards (you can make big chunks or more of a crumble mix, as you prefer!). The praline can be made up to a week in advance and stored in the fridge. 
To assemble 
Top the cake with plenty of frosting and crumble the praline over the top and enjoy! 
Our NEW squeeze-y tahini has landed at Sprouts Farmers Market! Try them both with a BOGO FREE offer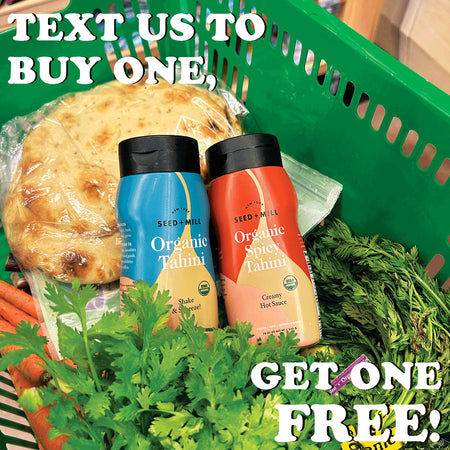 Get Offer