We recently discovered this recipe by chef Lidey Heuck and adapted it to give it even more of a sesame kick!  The crunchy raw broccoli (stems and all), plus the peanuts give this salad lots of texture and make it a wonderful summer BBQ side dish. But, our favorite part of this salad is the way the tahini combines with the tangy lime to create a bright, Thai inspired, flavor. This recipe is 10000% scrumptious and now in our permanent entertaining repertoire! Watch us make it on Youtube and Reels!  
INGREDIENTS
2 lbs broccoli (stems included) 
¾ cup thinly sliced scallions, white and green parts (3 to 5 scallions)
½ cup lightly salted roasted peanuts, roughly chopped
½ cup of Seed + Mill Organic Roasted Garlic Tahini (if using regular tahini, add 1 grated garlic clove)
½ cup fresh lime juice (from about 2 limes) 
2 tbsp well toasted sesame seeds  
2 tbsp soy sauce or tamari (if gluten free)
2 tsp hot honey (Prefer to keep it vegan? Try agave or maple! And if you don't have hot honey, just add some thinly sliced Jalapenos or chili flakes to finish.)
1 cup roughly chopped fresh cilantro and mint (either herb works, but we prefer a combination of both)

STEPS
Trim the broccoli stalks and peel them to remove the tough outer layer. Cut off the florets, leaving as much of the stalk as possible intact, and set the florets aside. Using the shredding or julienne blade of a food processor, a mandolin or a sharp knife, julienne the stems and place them in a large bowl.

Roughly chop the florets and add them to the bowl, along with the scallions and peanuts.

In a small bowl, combine the tahini, lime juice, soy sauce, hot honey, garlic (if using) and whisk until smooth. If the dressing is too thick, add 1-2 tbsp of water. If the dressing feels too thin, add 1-2 tbsp more tahini.

Pour the dressing over the vegetables and toss thoroughly to coat. Set aside at room temperature for at least 15 minutes, tossing occasionally, to allow the broccoli to soften slightly.

Just before serving, sprinkle over the toasted sesame seeds, add the fresh herbs and toss well. 
Our NEW squeeze-y tahini has landed at Sprouts Farmers Market! Try them both with a BOGO FREE offer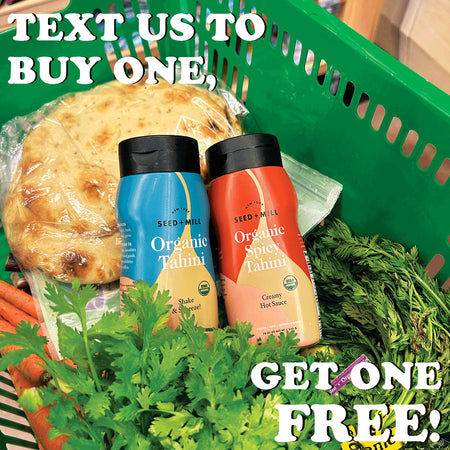 Get Offer