This recipe comes from Shalane Flanagan and Elyse Kopecky's new book Rise & Run. This recipe checks all the winning boxes—it's sweet, savory, and buttery, and has huge clusters. Elyse's three-year-old, Rylan, asks to help make a batch any time the jar in the pantry runs low.
This recipe is flexible, so feel free to sub in any assortment of your favorite nuts and seeds. If you're allergic to nuts, substitute a combination of pumpkin seeds and coconut flakes.

INGREDIENTS
3½ c rolled oats 
1 c raw mixed nuts (almonds, cashews, Brazil nuts, walnuts, pecans), chopped
½ c raw sunflower seeds or pumpkin seeds
¼ c raw sesame seeds 
2 tsp ground cinnamon
1 tsp ground ginger or cardamom 
1 tsp fine sea salt 
¼ c Seed + Mill Organic Tahini 
¼ c extra-virgin olive oil 
¼ c blackstrap molasses
¼ c honey

STEPS
1. Preheat the oven to 275°F. Line a rimmed baking sheet with parchment paper.
2. In a large bowl, stir together the oats, nuts, seeds, cinnamon, ginger, and salt. 
3. In a small bowl, combine the tahini, olive oil, molasses, and honey. Stir thoroughly until smooth. Add the wet ingredients to the dry ingredients and use your muscles to mix well. The oats will seem dry at first, but keep mixing. 
4. Spread the mixture over the prepared baking sheet.Bake for 20 minutes, stir, and bake for 20 minutes more. The granola will still be moist at the end of baking. This granola has a dark color, but don't worry—you didn't burn it. Cool completely before breaking up the clusters and storing.
5. Store in a lidded glass jar at room temperature. The granola will stay fresh for several weeks but will likely be devoured long before expiring.
NEXT LEVEL: Brighten your granola by mixing in 1 cup freeze-dried strawberries or freeze-dried raspberries.
Nutrition Tip: Check the label of your blackstrap molasses. A top-quality brand will have a higher mineral content. Iron per serving should be 20% of the recommended daily value!

Makes 9 cups. 
Our NEW squeeze-y tahini has landed at Sprouts Farmers Market! Try them both with a BOGO FREE offer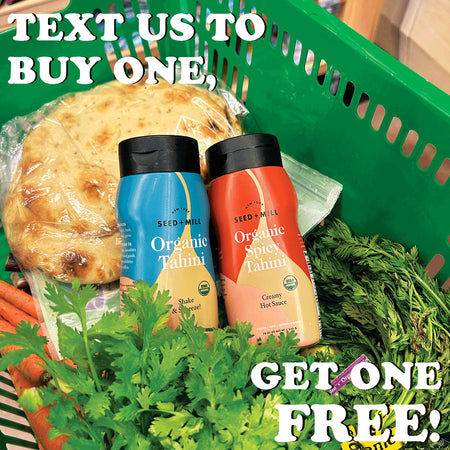 Get Offer