Are you looking to impress your guests? Try this amazing recipe for Chocolate Tahini Rainbow Cookies from the talented culinary content creator Jake Cohen!

INGREDIENTS
3/4 c Seed + Mill Organic Tahini
2 sticks of unsalted butter, softened, plus more for greasing
3 1/2 c almond flour
2 c confectioners' sugar
1 tsp kosher salt
1 tbsp granulated sugar
8 eggs, separated
2 tsp ground matcha
2 tsp ground hibiscus
2 tbsp honey
1 c semi-sweet chocolate chips
1 tbsp coconut oil
 
STEPS
1. Preheat oven to 350°. Grease 3 quarter-sheet pans with butter and line with parchment paper. 
2. In a bowl, whisk to combine the almond flour, confectioners' sugar and salt. 
3. In a separate bowl and using an electric hand mixer, beat the butter and granulated sugar until fluffy. Add the egg yolks, one at a time, mixing well after each addition. 
4. With the electric mixer running, slowly add dry ingredients into the wet until batter forms. 
5. In another separate bowl and using clean beaters, beat the egg whites to medium peaks, then fold into the batter. 
6. Divide the batter between 3 bowls. Stir in the matcha into one bowl and stir in the hibiscus into another. Spread each bowl evenly into the prepared pans. Bake until risen and firm, 15 minutes. Let the layers cool and invert onto a cutting board, then peel and discard parchment paper. 
7. In a small bowl, whisk together the tahini with the honey. On one of the sheet pans, place the purple layer. Spread half of the tahini mixture evenly over it, then place the white layer and spread the remaining tahini mixture. Top with the green layer.
8. In a small microwaveable bowl, melt the chocolate chips with the coconut oil. Stir until smooth. Spread half the chocolate layer evenly over the rainbow cookies and refrigerate until firm, 30 minutes.
9. Invert the cookies and spread the remaining chocolate evenly on the bare side. Return to the refrigerator and chill for 30 minutes. 
10. Transfer to a cutting board and trim the edges. Cut into 1 1/2-inch squares. Transfer to a platter and serve.

Makes approx. 35 cookies.
Our NEW squeeze-y tahini has landed at Sprouts Farmers Market! Try them both with a BOGO FREE offer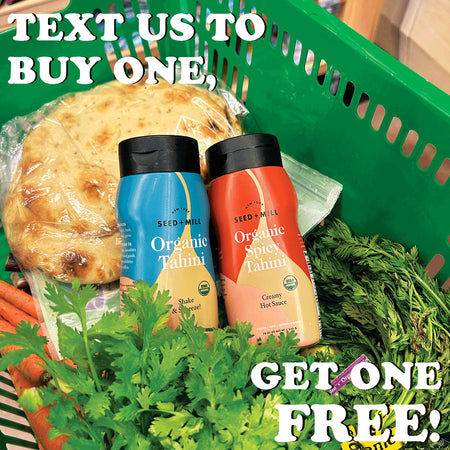 Get Offer