We took our favorite nostalgic snack and gave it a Seed + Mill twist! The addition of nutty, earthy tahini and sweet, flaky halva make for a delicious (and slightly more nutritious!) grown-up version of the sweet treat you know and love. Watch us make it on Youtube and Reels!
INGREDIENTS
For the base
3 c rice krispies
¾ c Seed + Mill Organic Tahini  
⅓ c honey, (or maple syrup for a vegan option)
2 tbsp coconut butter, (we love CAP Beauty's)
3 tbsp Seed + Mill Halva, crumbled (we used toasted sesame, but any of our flavors would be delicious!) 
Pinch of Kosher salt
For the chocolate topping
1 c dark chocolate chips
¼ c Seed + Mill Organic Tahini, plus an extra tbsp to swirl on top
STEPS
1. Line an 8x8 inch pan with parchment paper. Set aside.
2. Place a medium pot over low heat and add in tahini, coconut butter, and honey (or maple syrup, if using). Stir together until smooth, bring to a boil, then remove from heat.
3. Place rice krispies in a bowl, add the crumbled halva, pinch of salt and pour over the tahini mixture. Gently stir until well combined and cereal is completely coated.
4. Pour into lined pan, and use a spatula (or your tahini jar) to flatten the top so it is even. Place in the fridge to set for 10 mins.
5. To make the chocolate topping: place chocolate in a small bowl over a double boiler and melt. Once chocolate is silky smooth, add the tahini and gently stir until well combined. 
6. Remove rice krispie mix from the fridge and pour over the melted chocolate mix. Use spatula to ensure chocolate is evenly distributed.  
7. Using a small spoon, place small dollops of tahini over the top of the chocolate before it sets and use the other side of the spoon to swirl the tahini into artistic patterns.
8. Place tin in the fridge and allow to completely set before removing paper from the tin and slicing into small squares (about 1 hour).
These will last in the fridge for up to a week and are best eaten about 5 mins after removing from the fridge. 
Makes 16
Our NEW squeeze-y tahini has landed at Sprouts Farmers Market! Try them both with a BOGO FREE offer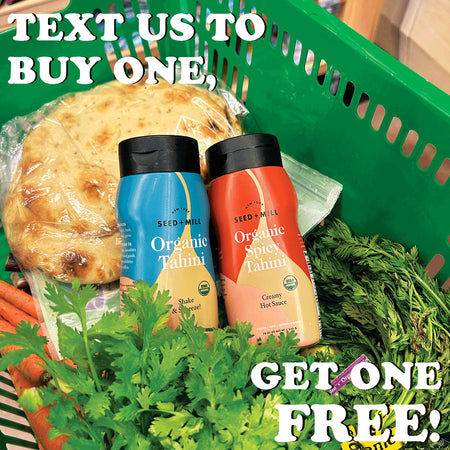 Get Offer