One of our go-to summer snacks! Togarashi is a Japanese spice blend combining sesame, citrus peel, nori, chili, and salt. It always helps to have a trusted taste-tester. This go around it was Ivy from @buttereggroad. Thanks, Ivy!

INGREDIENTS
Shishito peppers, about a pound
2-3 tbs olive oil
1 tbsp Togarashi spice blend of your choice

For the dipping sauce
1/4 c Seed + Mill Organic Tahini
1/4 c lemon juice
2 tbsp iced water
2 tbsp Greek yogurt (optional, if you're looking to keep things vegan)

STEPS
1. Heat the olive oil in a wok or fry pan and toss peppers on high heat for a few minutes, until browned and blistering. Sprinkle with Seed + Mill Togarashi Spice Blend and toss in the pan. Set aside.
2. In a medium mixing bowl, whisk together the tahini, lemon juice, water, and Greek yogurt. Finish with a drizzle of olive oil and a sprinkling of Seed + Mill Togarashi Spice Blend.

Enjoy! The dipping sauce can be made a day ahead and kept refrigerated in an airtight container.
Our NEW squeeze-y tahini has landed at Sprouts Farmers Market! Try them both with a BOGO FREE offer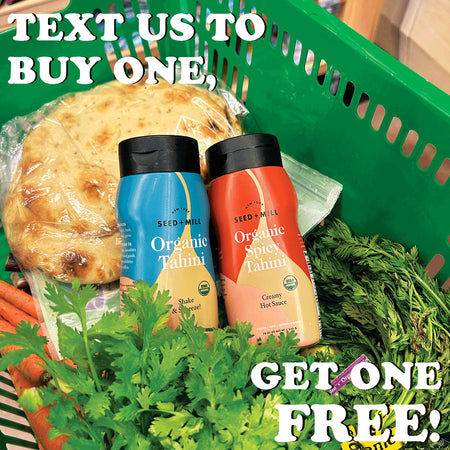 Get Offer