"This is my take on a traditional Lebanese treat," says Netflix star and The Great British Baking Show winner Nadiya Hussain, "The turmeric smells savory, but in fact it brings a sweetness to the recipe, and I have also added ginger to really complement the turmeric, so your senses will be very busy." They look beautiful and are so simple to make, topped with pine nuts and sesame
seeds for some crunch. This must-try recipe comes from Nadiya's new cookbook, Nadiya Bakes—pick up a copy to get 100 simple and achievable recipes for cakes, cookies, breads, tarts, and puddings that will become staples in your home.
INGREDIENTS
For the cake
⅓ c (100g) Seed + Mill Organic Tahini
3⅔ c (450g) all-purpose flour, sifted
1¾ c (360g) granulated sugar
2½ tsp ground ginger
2½ tsp ground turmeric
½ tsp baking powder
½ c + 2 tbsp (145ml) good olive oil 
1¾ c (420ml) boiling water
1 x 4-inch piece of crystallized ginger, very finely chopped
For the top
1 tbsp sesame seeds
1 tbsp pine nuts
¼ c (60ml) honey
STEPS
1. Start by preheating the oven to 350°F. Have a 9 x 13-inch/23 x 33cm baking pan ready, lined with parchment paper.  
2. Put the tahini straight into the bottom of the baking pan and, using a pastry brush, brush the sides and edges until they are completely covered.
3. Combine the flour, sugar, ground ginger, turmeric, and baking powder in a bowl and whisk till mixed.
4. Make a well in the center and add the olive oil, then the boiling water, then the crystallized ginger and mix until you have a beautifully fragrant yellow batter, thick enough to pour.
5. Now pour the mixture into the tahini-lined pan—it should all run into a smooth, even layer. Sprinkle the sesame and pine nuts all over the top.
6. Bake for 30 minutes, until firm to the touch. Take it out of the oven and let cool for 10 minutes before using a small serrated knife to cut diagonal lines in opposite directions, still in the pan, to form diamonds.
7. Brush all over with the honey.
8. Allow to cool completely in the pan before serving.


Makes approximately 24 diamonds
Will keep for 5 days in a tin
Photo courtesy of Chris Terry
Our NEW squeeze-y tahini has landed at Sprouts Farmers Market! Try them both with a BOGO FREE offer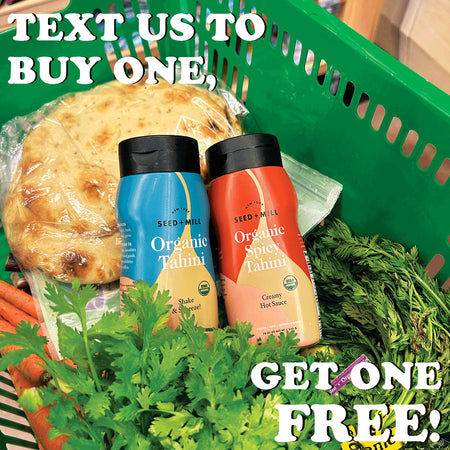 Get Offer