There is something so satisfying about a sweet, baked, sesame treat. It is chewy due to the creamy, stretchy nature of tahini and crumbly due to the almond meal. It requires only five ingredients and takes about 15 minutes to make!

INGREDIENTS
2 c almond meal
3/4 c Seed + Mill Organic Tahini
1/2 c maple syrup
1/2 tsp sea salt flakes
2 tsp vanilla extract
Crushed cocoa nibs and chopped pistachios, to garnish

STEPS
1. Preheat oven to 325 °F.
2. In a heavy-bottomed saucepan, combine tahini, maple syrup, salt, and vanilla over medium heat. Keep on the heat for a few minutes, stirring constantly until smooth and blended. Remove from heat and allow to cool.
3. Add almond meal to the tahini maple syrup mixture and mix until a rough dough forms.
4. Roll 1-2 tbs of the dough in the palm of your hands into a ball. Place on the prepared tray and flatten slightly with your fingertips.
5. If decorating, press the toppings on top of the cookie discs in the centre.
6. Bake in the pre-heated oven for approximately 10 minutes. Switch off the oven and let the cookies brown slightly in the hot oven for another 5 minutes before removing.
Our NEW squeeze-y tahini has landed at Sprouts Farmers Market! Try them both with a BOGO FREE offer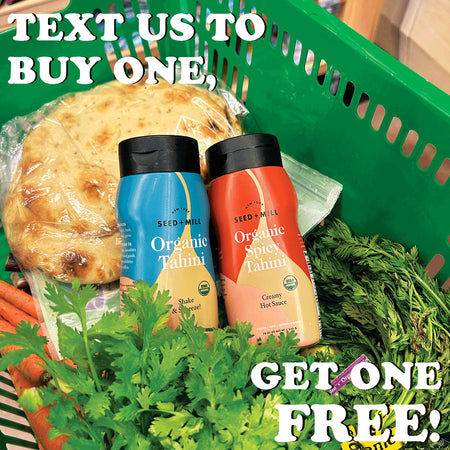 Get Offer