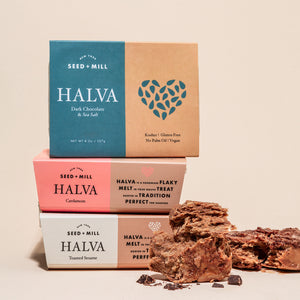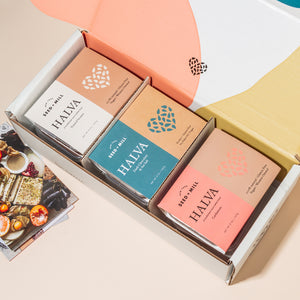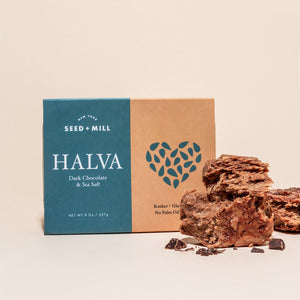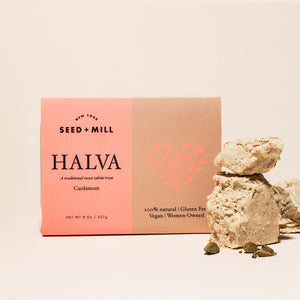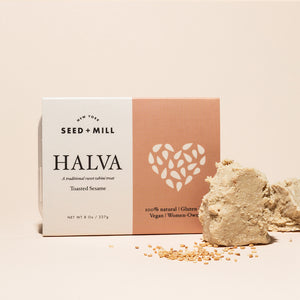 Traditional Halva Trio
Great Halva!
Absolutely delicious and enjoyed by all!
Tasty Surprise
I heard about Seed Mill through Rainbow Plant Life, and wanting the best Tahini for a good hummus, I looked it up. To my surprise, I saw Seed Mill also has Halva! I don't remember the last time I've had halva but it reminds me of my grandpa who's been gone for some years now. He introduced me to halva when I was very young. I've loved halva ever since and it always reminds me of him. I ordered the traditional trio pack and some tahini. It arrived sooner than I thought it would, I was pleasantly surprised! I immediately opened up the package and dug right into the halva. It was everything I remember! The flavors of each were perfectly infused and the unique texture was just as I remember! The tahini, soft and smooth, also made the best hummus that even my son who doesn't like just any hummus, gobbled it up! Thank you so much! If I'm ever in New York I will definitely be stopping by to try some of your award winning tahini soft-serve ice cream!
Best treats ever!
I love the variety of flavors of the Halva and the halva covered pecans are excellent. I have to ration them or I'd eat them all in one sitting.
Best treat to have on hand.
Speedy shipping and delicious product
I've not opened the tahini yet, but the halva is to die for good!
This Halva Trio includes 3 beautifully packaged 8oz boxes of our best selling halva flavors: Sea Salt Dark Chocolate, Cardamom and Toasted Sesame!  


All items in this gift set are certified kosher.


SHIPPING: Your order will ship within 2-3 business days. We cannot guarantee a specific delivery date. Please reach out to info@seedandmill.com if you have any questions.

SEA SALT DARK CHOCOLATE: sesame seeds, cane sugar, glucose syrup, saponaria extract, dark chocolate (cocoa beans, cane sugar, cocoa butter, soy lecithin, vanilla), sea salt. Contains sesame.
CARDAMOM: sesame seeds, cane sugar, glucose syrup, cardamom, saponaria extract. Contains sesame.
TOASTED SESAME: sesame seeds, cane sugar, glucose syrup, saponaria extract. Contains sesame.

The halva is certified kosher by the Rabbinate of Ashdod. Please email us if you would like to see the certificate.


The halva pieces are packed upside down in a protective container. Flip each piece out of the container onto a cutting board when ready to serve.

Halva lasts for 4-6 months when stored in a cool, dry place, but we hope you eat it all before then! You can leave your halva in the small containers it ships in or in a similar airtight container. We don't recommend freezing halva, as it will damage the delicate, flaky texture. 

Check out our recipe page for creative ways to use halva in your kitchen.