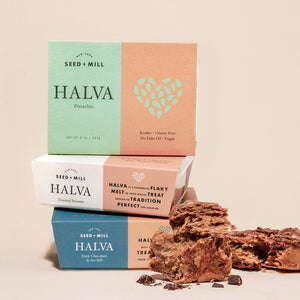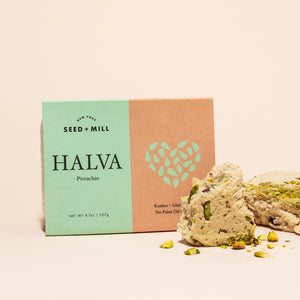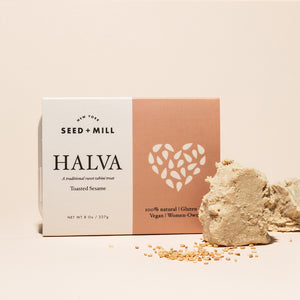 All Products
Best Sellers Halva Trio
Gift pack
Disappointed in the tart cherry.it was very hard And not that tasty. The others were delicious
delicious
I am enjoying halva and the squeeze bottle of tahini from Seed and Mill - so delicious!
OMG!
The sesame Halvah is best of all Ive tried over the years. Loving the Zaatar Tahini on all cooked veg, buddha bowls, and by itself on a spoon!
Good Things Come in Threes
Seed & Mill know how to make quality halva !! Their Best Sellers Halva (Pistachio, Toasted Sesame, and Dark Chocolate & Sea Salt) arrived fresh and delicious. When they first opened, there were many more flavors available. I kinda wish we had more choices cuz the halva is soooooo delicious !! Make no mistake, though, I loved the 3 flavors I ordered !
This Halva Trio includes 3 beautifully packaged 8oz boxes of our best selling halva flavors: Pistachio, Sea Salt Dark Chocolate and Toasted Sesame!  


All items in this gift set are certified kosher. 


SHIPPING: Your order will ship within 2-3 business days. We cannot guarantee a specific delivery date. Please reach out to info@seedandmill.com if you have any questions.

PISTACHIO: sesame seeds, cane sugar, glucose syrup, saponaria extract, pistachios. Contains sesame.
SEA SALT DARK CHOCOLATE: sesame seeds, cane sugar, glucose syrup, saponaria extract, dark chocolate (cocoa beans, cane sugar, cocoa butter, soy lecithin, vanilla), sea salt. Contains sesame. 
TOASTED SESAME: sesame seeds, cane sugar, glucose syrup, saponaria extract. Contains sesame.

The halva is certified kosher by the Rabbinate of Ashdod. Please email us if you would like to see the certificate.


The halva pieces are packed upside down in a protective container. Flip each piece out of the container onto a cutting board when ready to serve.

Halva lasts for 4-6 months when stored in a cool, dry place, but we hope you eat it all before then! You can leave your halva in the small containers it ships in or in a similar airtight container. We don't recommend freezing halva, as it will damage the delicate, flaky texture. 

Check out our recipe page for creative ways to use halva in your kitchen.