What could be more fun than making Matzo Crack with your kids for Passover!? We couldn't resist giving this nostalgic treat a Seed + Mill makeover by adding tahini and halva! This crunchy, flaky, delicious snack is addictive - don't say we didn't warn you!!! Watch us make it on Youtube and Reels!

INGREDIENTS 
3 Matzo squares (we always use Matzo Project)
3/4 c sugar
2 tbsp water
1 c dark chocolate chips
¼ c Seed + Mill Organic Tahini
¼ c Seed + Mill Halva (all of our flavors work well, but we have to love the Sea Salt Dark Chocolate Halva for this recipe!)  
2 tbsp toasted sesame seeds  

STEPS
1. Lay the Matzo on a parchment lined sheet pan.
2. Gently melt the chocolate by placing the chocolate chips in a small silver bowl over a double boiler (a pot filled with water) on low to medium heat. The chocolate can burn easily, so best to do this slowly.
3. While the chocolate is melting, make the sugar caramel by placing the sugar and water in a heavy bottomed pot and heat until sugar starts to dissolve. No need to stir together- this can cause the sugar to crystalize. Once the sugar has dissolved, turn up the heat to medium high until the sugar starts bubbling. After about 4 minutes, the mix will turn a golden honey color. Keep a watch on this, as the sugar will turn very quickly and can also easily burn.
4. Once golden, immediately pour the caramel over the Matzo squares and use a spatula to spread evenly. It will set very quickly so you will need to work fast!
5. Let the caramel covered Matzo squares cool slightly and check on your chocolate! Once the chocolate has melted, add the tahini and gently swirl together until well combined.
6. Pour the tahini chocolate mixture over the caramel covered Matzo squares and spread evenly.
7. Sprinkle your halva and toasted sesame seeds over the top and allow to set.
8. Use a knife or your hands to crack your Matzo squares into whatever shapes you like and devour! 
This recipe makes enough for 6 servings (although, if you ask us, we could eat the whole batch alone!). It will keep for up to 7 days in a sealed container. Best kept fresh in the fridge.
Our NEW squeeze-y tahini has landed at Sprouts Farmers Market! Try them both with a BOGO FREE offer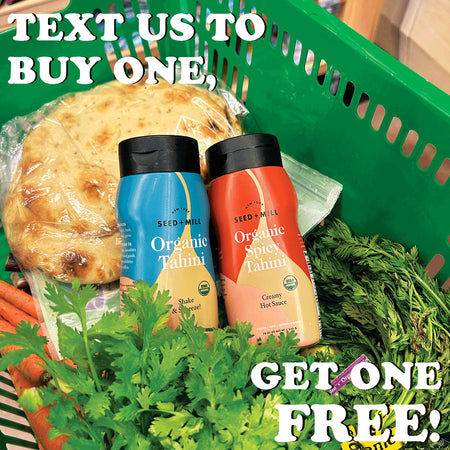 Get Offer